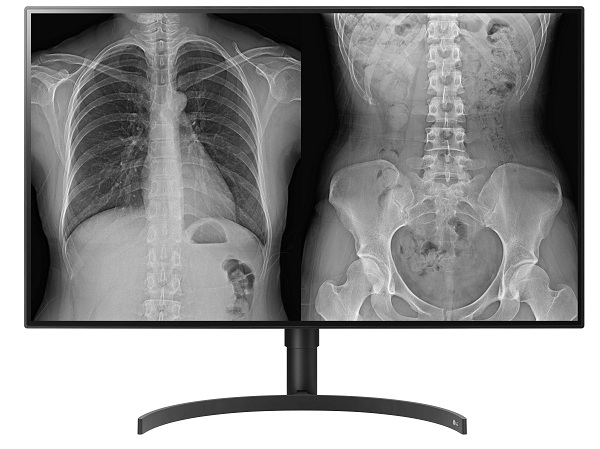 Hospital & Healthcare Management/ CaseStudies/ Canon CXDI-60C detector with applications in neonatology :- The unique mobile X-ray radiography system, Shimadzu Mobile DaRtEvolution, using the Canon CXDI-60C detector with applications in neonatology – the first installation in the Czech Republic at University Hospital Pilsen

This Case Study is Reported and Provided by MUDr. Martin Scheiner: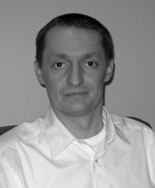 Martin Scheiner, M.D. is currently working as a Product Specialist in the original Czech company AURA Medical, Prague, Czech Republic, dealing with Canon Flat-detectors, Ziehm, Planmed medical imaging equipment. After Finishing his medical studies at Medical Faculty in Pilsen(CZ), Charles University, Prague in 2000, he started his career as Radiologist in hospitals Kadan, Chomutov, Carlsbad – in North-west Bohemia, Czech Republic, passed Medical Attestation in Radiology.
To optimize exposure of medical irradiation when taking X-ray photographs, for example scanning of newborns, it is necessary to pay attention to a few specifics. Because newborn babies and premature infants in particular are often more sensitive (seven to ten times higher)  to the effects of ionizing radiation than adults, it is necessary to reduce the absorbed dose to the lowest level but at the same time maintain the quality of diagnostic information, i.e. image quality. This can be achieved by using reasonably "difficult" techniques for taking X-ray photographs with high sensitivity (efficiency ratio) of the detection system. Our new mobile radiography device works in conjunction with DR detector technology using a specific indirect conversion of X-rays CsI (currently the best conversion rate technique) and allows the operator not only to shift the zone of exposure intensity to the appropriate level but will also retain a very high quality of diagnostic information.
Compared with the previous film technology (CR technology, which was unsuccessful in this particular application) the value of a monitored quantity of diagnostic reference levels has decreased (the product of kerma and area) by an average of ten times, which was a very pleasant surprise for us. It was due to the combination of positive factors resulting from the use of more difficult technologies (i.e. increasing the voltage by 10 kV compared to film operation voltage). Above all though, the success was due to the use of the highly sensitive detector Canon CXDI 60C.
Another benefit is the ability to shorten the exposure time under international recommendations to given levels of 4 ms (using images of a small focus diameter with exposure time 3 ms), which securely prevents motion artifacts caused by the practical impossibility of infants being able to hold their breath for longer periods during inhalation.
The great advantage, especially appreciated by the doctors as well as radiology assistants, is the ability to obtain an instant preview image. A preview of just 1 Mpix is enough for the physicians to understand the patient's situation.  Radiology assistants can with minor modifications tune the image into an ideal image and display it on the high-quality diagnostic station at a resolution of 3 Mpix.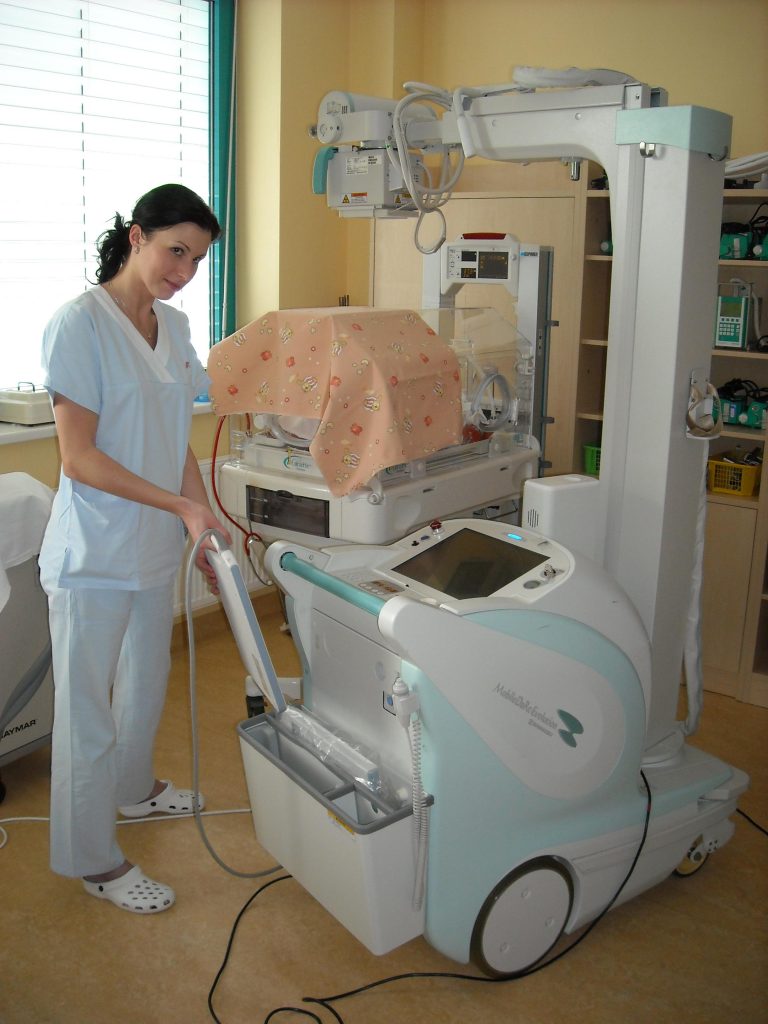 Because it is impossible to use the AEC due to the diversity of young patients, not every image is perfect, even if the radiologist assistant sets the appropriate combination of voltage and electrical quantity. But even a wet process could be done manually – and the picture literally "tuned" itself. Moreover, a preview reveals whether the image is showing everything we wanted to see, and possibly, without any additional disturbance to the patient, the ability to make another image with a full, compositionally correct exposure.
Because the Canon detector provides these results, we are able to eliminate the most common reasons for repeated exposures. Often even the high dynamics of digital video (A / D conversion has a depth of 14 bits and the image after processing 12-bit depth) cannot provide a diagnostically complete image because the image cannot be adjusted as with the Canon detector; therefore causing the need for repeated images and thus repeated exposure.
In addition the dimensions of the detector are designed for scanning newborns in incubators, where the detector can be inserted into a designated area for radiographic cassettes currently used in most incubators.
Another important issue when selecting the device was the spatial resolution of the detector. Pixels have the standard size 160 µm. To maintain diagnostically acceptable isolation signal-noise, the smaller pixel sizes would necessarily require an increase in exposure.  Pixels have to be exposed with a certain minimum number of photons. For a high conversion ratio it is then necessary to maintain a certain thickness of the scintillator. Fortunately, the Canon detector has the unique dimension of an active area of 28x23cm.
Ing. Tomáš POKORNÝ, Ph.D. (Clinical Radiology physicist, University Hospital Pilsen – Lochotin) MUDr. Martin SCHEINER (AURA Medical s.r.o., Prague)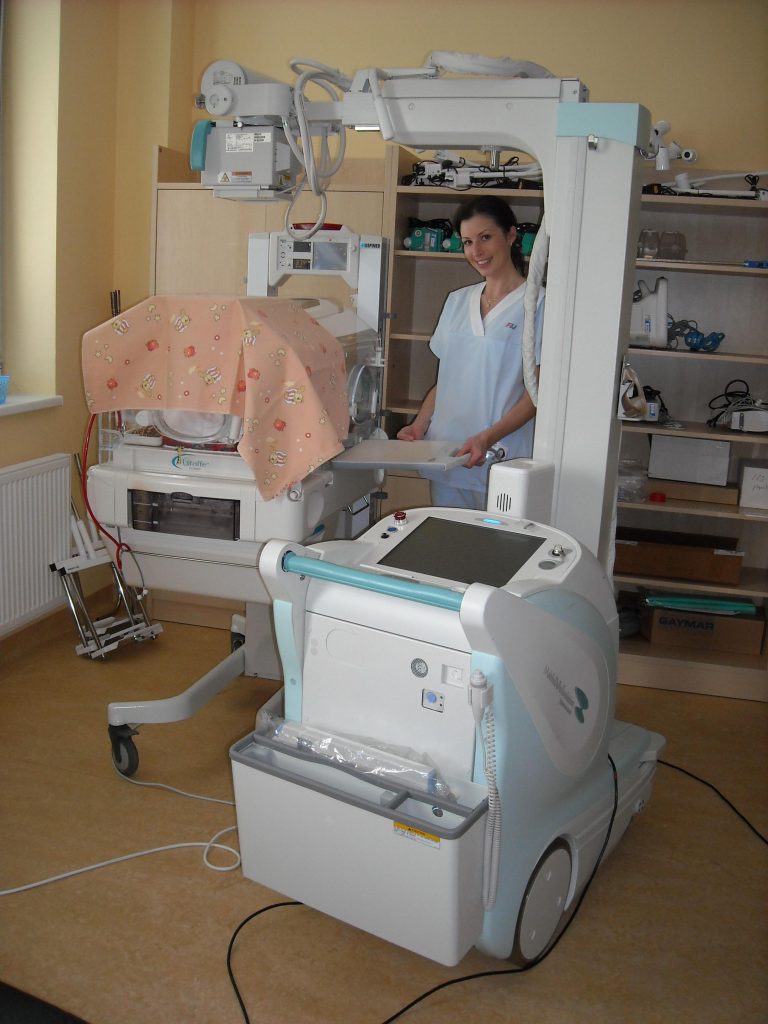 Mobile DaRtEvolution radiography unit (Shimadzu) was put into operation in November 2009 at the Clinic of Imaging Methods, University Hospital in Pilsen. The device is equipped with a portable detector CXDI-60 C (Canon). We are highly satisfied with this mobile device. The device is used for scanning of children from neonatology department, but mostly children prematurely born and newborns, whose weight is often around 1kg, and who are placed in an incubator. In the past, these children were scanned by using an analog mobile device onto the film material, where the result of scanning was often uncertain and where usually repeated scanning was needed, which was very stressful and burdening for our youngest patients.
Nowadays we don't have to worry about those problems any longer. The images are of high quality; there is no need for re-taking them and they are almost immediately available. The images are sent in digital form via DICOM to the hospital information network to be described by the physicians and stored in a patients' database. This has greatly improved the radiodiagnostic care of the smallest patients, which is highly appreciated and considered by the neonatologists as a great step forward.
Doc. MUDr. Boris KREUZBERG, CSc
Head of Department Imaging Methods,
University Hospital and Medical Faculty in Pilsen

About Cannon:Canon has been an innovator in Medical applications for 70 years. Canon's Passion for medical technology and caring for people has shown the foundation of the company by its primary aim: creating solutions for better healthcare. Today this tradition of innovation is continued and taken to new levels of excellence.
Centered around the fascination of the spectrum of light, optics and digital sensor technology, Canon has developed a range of imaging products for the health care specialist that requires high resolution digital images in Radiography and Fundus photography.
For more information on Canon DR Flat Panel Detectors, please visit: www.canon-europe.com/medical

For inquiries and information on Shimadzu Mobile DaRtEvolution please visit: www.shimadzu.eu/medical/