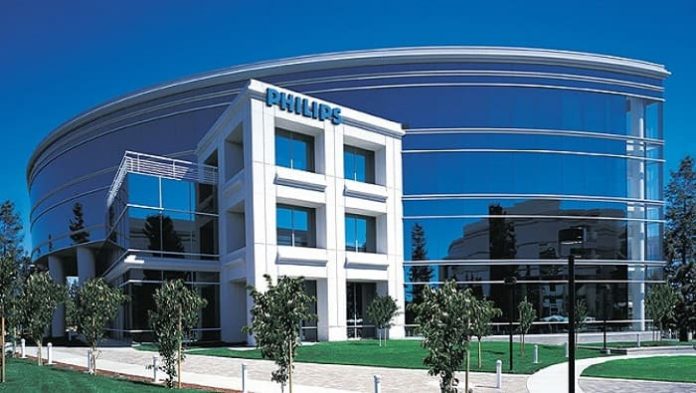 Royal Philips reported further progress in its sustainability performance in 2017 with Green Revenues increasing to EUR 10.7 billion, now representing 60% of total revenues1. The Philips 2017 sustainability update is an integral part of the Philips 2017 Annual Report (https://www.results.philips.com/).
"Our performance in 2017 underlines our commitment to embed sustainability in the way that Philips operates and innovates, and shows the progress of our journey to improve the lives of 3 billion people a year by 2025," said Frans van Houten, CEO of Royal Philips. "We are well on track, having already touched the lives of 2.2 billion people in 2017. Achieving our sustainability goals requires a new way of doing business, and I am proud that we are addressing some of the world's most pressing challenges by contributing to the UN Sustainable Development Goals, while respecting natural resource limitations and taking a circular economy approach."
As part of its 5-year sustainability program, 'Healthy people, sustainable planet' (https://www.philips.com/a-w/about/sustainability/our-approach/ambition-2020.html), which was launched in 2016, Philips is committed to becoming carbon neutral in its operations, to grow its Green Revenues to 70% of sales, and to have 15% of its revenues generated through circular economy-driven propositions2 by 2020.
Philips' 2017 highlights include:
In recognition of the company's sustainability achievements, Philips was named Industry Leader in the Dow Jones Sustainability Index for the third consecutive year. The company achieved "Best in Class" scores in various sections, including Climate Strategy and Operational Eco-efficiency. In addition, Philips achieved top results in the 2017 Carbon Disclosure Project (CDP) for the fifth year in a row, which recognizes Philips' positive climate change actions.
Philips extended its commitment to improve the lives of people in underserved healthcare communities. In 2014, Philips pledged to support the United Nation's Every Woman Every Child initiative committing to improve the lives of at least 100 million women and children in Africa and South East Asia by 2025. In 2017, Philips increased that commitment to 300 million people, thereby recognizing the often-critical needs of women and children in many communities. An example of Philips' commitment is the partnership with the Government of Kenya and the United Nations to improve access to primary healthcare in Africa.
Philips underlined its 2020 commitment to the Circular Economy by pledging to close the loop on all the large medical systems that its customers are prepared to return to the company. Philips will actively pursue the trade-in of equipment such as MRI, CT and Interventional X-ray systems and take full control to ensure that all traded-in materials are repurposed in a responsible way.
Underpinning Philips' pioneering role in sustainability reporting, the company for the first time reports its environmental impact on society at large via a so-called Environmental Profit & Loss (EP&L) account, which includes the complete environmental costs associated with Philips' activities and products, from cradle to grave. This will support Philips' 'Healthy people, sustainable planet' program by providing insights into the main environmental hotspots from an overall business point of view. Further details about Philips' EP&L results and methodology can be found via this link (https://www.philips.com/c-dam/corporate/about-philips/sustainability/downloads/ecovision-methodologies/EPL-Account-methodology-2017.pdf).
[1] Green Revenues are revenues generated through products and solutions that offer a significant environmental improvement in one or more Green Focal Areas: Energy efficiency, Packaging, Hazardous substances, Weight, Circularity and Lifetime reliability. For healthcare equipment, remote serviceability is another Green Focal Area. The lifecycle approach is used to determine a product's overall environmental improvement. It calculates the environmental impact of a product over its total life cycle (raw materials, manufacturing, product use and disposal).
[2] Circular Revenues are defined by revenues generated through products and solutions that meet specific Circular Economy requirements. These include performance and access-based business models, refurbished, reconditioned and remanufactured products and systems, refurbished, reconditioned and remanufactured components, upgrades or refurbishment on site or remote, and products containing at least 30% recycled plastics.
For further information, please contact:
Ben Zwirs
Philips Group Press Office
Tel: +31 6 1521 3446
Email: ben.zwirs@philips.com
Ksenija Gonciarenko
Philips Investor Relations
Tel: +31 20 59 77055
Email: ksenija.gonciarenko@philips.com
About Royal Philips
Royal Philips is a leading health technology company focused on improving people's health and enabling better outcomes across the health continuum from healthy living and prevention, to diagnosis, treatment and home care. Philips leverages advanced technology and deep clinical and consumer insights to deliver integrated solutions. Headquartered in the Netherlands, the company is a leader in diagnostic imaging, image-guided therapy, patient monitoring and health informatics, as well as in consumer health and home care. Philips' health technology portfolio generated 2017 sales of EUR 17.8 billion and employs approximately 74,000 employees with sales and services in more than 100 countries. News about Philips can be found at www.philips.com/newscenter.