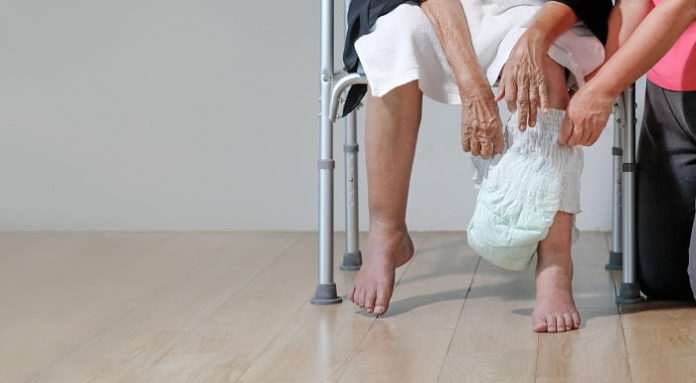 Going to the bathroom is a normal routine for a lot of people. It's something that's usually managed and can even be delayed if need be. However, it's not always the case for everyone, especially for people with incontinence.
Incontinence is a condition wherein you can't control your bowel movements or bladder. It's an involuntary leakage that commonly affects aging people, but it could also happen to anyone, especially after childbirth or surgery.
If you have an incontinent loved one, caring for them can prove to be a challenge. The condition can lead to them feeling embarrassed, uncomfortable, isolated, and withdrawn, which is why you need to be extra sensitive and thoughtful when caring for them.
How To Care For Incontinent People
There can be several reasons why a family member can suffer from bladder leakage. Whatever the reason may be, knowing how to care for them will be of great help. The professional advice of your doctor will also be a key factor in determining the right care for the patient. Aside from medications, there may also be certain behavioral techniques and exercises recommended to possibly help the patient bounce back.
As their caregiver, it's detrimental that you know how to properly take care of an incontinent person. Some care tips that you may consider are:
Have The Right Care Products
As you take charge in caring for your incontinent loved one, you'll realize the importance of the right care products for their condition. For one, diapers for incontinence could very well prove to be extremely helpful for both daytime and nighttime use. Aside from diapers, you can also make use of absorbent briefs, penile clamps, vinyl or waterproof briefs, absorbent bed pads, disposable wipes and washcloths, as well as absorbent liners and booster pads.
These products can give both you and the patient some peace of mind especially if you can't oversee their welfare 24/7. They can also make your life at home so much easier and could take a lot of stress off your shoulders.
See To It That They Get Continuing Treatment
The treatment of their condition will depend on what caused it and the type of incontinence that they have. It can be caused by neurological disorders such as dementia and Alzheimer's disease. In those cases, it could either be urge incontinence, which is the need to urinate but losing the urine before reaching the toilet; while the other one is possibly functional incontinence, which means that they feel the need to urinate but are no longer physically able to go to the toilet.
In general, most treatment plans would include the following:
High-fiber diet
Bladder training
Increased intake of fluids
Toilet habits training
Certain medications, such as laxatives, aid in constipation
Again, the treatment plan could vary depending on what the attending doctor would recommend. The key is to understand the condition well so you know how to take care of the patient.
Always Have An Incontinence Kit Ready
Preparing an incontinence kit can prove to be a great idea, especially if your family is going on a vacation. It'll make the patient feel better knowing that their condition isn't limiting them from doing what they want or going where they need to.
With enough planning and preparation, you can make holidays a breeze for them by having a kit ready. A duffle or tote bag that includes all their essentials–from diapers to wipes, absorbent pads, gloves, extra underwear, and more–should work.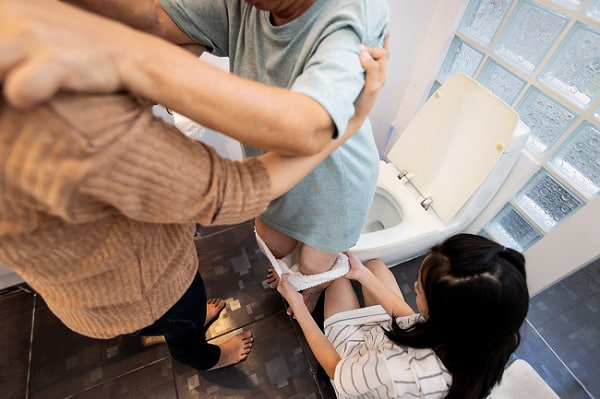 Know When To Get Help
While acknowledging your responsibility as their caregiver, you should also learn to tell when an event is already prompting the need for immediate medical attention. For example, if the patient is no longer able to urinate or experiencing chronic constipation, it might mean that you need to consult a doctor right away.
Other warning signs to watch out for are sudden bedwetting, persistent skin rash, and even strong and negative emotions being experienced by both the caregiver and the patient, such as depression, stress, or anger.
Make Them Feel They're Not Alone
It's expected for incontinent people to feel isolated and alone, especially elderly patients. It's important that you make them feel otherwise. What they best need during this stage of their life is to be assured that they're not alone in this battle and that their family will be there to support and care for them all throughout.
Communicate with them in a way that they'll understand how it's not their fault that they're in such a situation. While it's normal for them to be embarrassed, try your best to let them know that it doesn't change how you see them–a beloved family member who deserves care, respect, and dignity despite their condition.
Conclusion
Having to care for an elderly loved one, much more an incontinent one, is a challenging role that can wear you out at some point. But that doesn't mean you should give up. Now more than ever, your family member needs you to be caring, compassionate, and patient. With the tips above, you may hopefully make the responsibility easier to bear.