Carestream has its first full Clinical Collaboration Platform signed (CCP) contract with the Ikazia Hospital in Rotterdam. The agreement is valid for a period of five years and is in addition to the already existing PACS Cloud contract with the hospital.
Opened in 1968, Ikazia Hospital is a medium-sized hospital with approximately 1,300 employees working in a wide range of departments including radiology, cardiology, physical therapy and gynecology. To support its focus on providing the highest quality of care the hospital strives to optimize interconnectedness and cooperation from doctor to patient and nurse to family. The new CCP agreement with Carestream will help Ikazia Hospital to achieve this.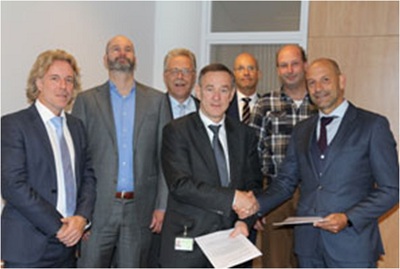 Ikazia HospitalThe CARESTREAM Vue Clinical Collaboration Platform gives all those who provide care, administer or receive the opportunity to gain access to all of them available and necessary clinical information. All from a single platform, single user interface, regardless of type, brand and equipment supplier.
The platform offers international standards-based solutions, both locally as well as cloud-based services, which ensure cost-effectiveness, scalability, and security for the future. This includes capturing, viewing, management, storage (including Vendor Neutral Archive) and the secure exchange of information to and between all departments within the hospital, its patients but also with other institutions in the region with whom Ikazia hospital cooperates. The vendor-neutral Vue Clinical Collaboration Platform will also integrate seamlessly with the SPD and interact with systems from other institutions.
In close cooperation with the Ikazia Hospital and MedicalPHIT is Carestream succeeded in achieving optimum cost efficiency for the hospital and provide a service that meets all the needs Ikazia desired.
"The service offered by Carestream may Ikazia Hospital nearly capture all clinical information, store, distribute among the various departments and doctors of the hospital through a single platform and viewer. The service offered is provided by Carestream our employees the opportunity to share this information securely with other organizations and, if appropriate, even with patients. Due to the single platform concept, this service is very cost effective and extremely user friendly. " Stated Mr. RPD Kievit, General Manager, Ikazia Hospital.