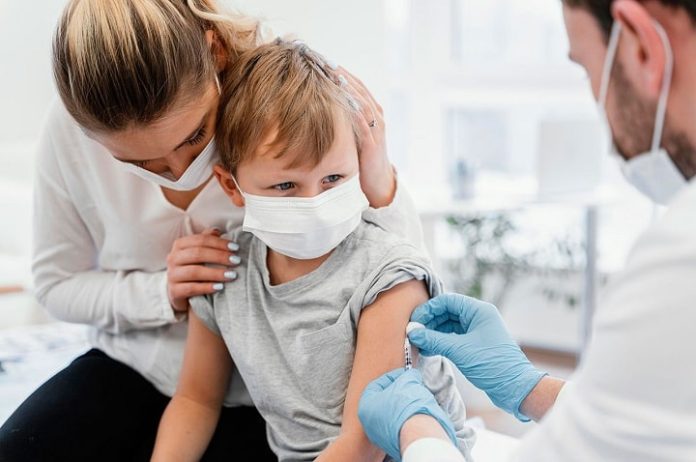 After the US Food and Drug Administration postponed essential steps toward legalising COVID-19 vaccinations for children under the age of five by a month, many parents are more eager and enthused than ever. People are driving in from multiple states to participate in the Pfizer/BioNTech vaccine trial for such kids, according to Dr. Daniel Leonard, a paediatric hospitalist. While many would not think of south central Nebraska as the epicentre of scientific development, the flood of participants from Colorado, Minnesota, Wisconsin, and Iowa; some commuting eight or even nine hours each way overnight to participate in the study, suggests they are indeed committed.
Around 18 million children under the age of five in the United States are not yet eligible for the COVID-19 vaccine. Children are less likely than adults to be hospitalised or die from the virus, but as per the US Centers for Disease Control and Prevention, at least 400 children aged 4 and younger have succumbed to it.
According to experts, the search for a vaccine may not be too long. Moderna has confirmed that it plans to furnish its study results on children aged in the bracket of 2 to 5 in March and that it may seek FDA approval if the data is favourable and subject to regulatory consideration. The COVID-19 vaccination from Moderna is presently exclusively available to adults in the United States.
Albert Bourla, Pfizer CEO, said that a vaccine for children aged 6 months to 4 years old will be available, possibly in May, assuming it works. On CBS's "Face the Nation," Bourla added that they will be prepared with manufacturing. Pfizer's COVID-19 dose is already in the offing for children as young as five years old. Johnson & Johnson, manufacturing the other COVID-19 vaccine approved in the US, is doing a late-stage study of a vaccine for 12-to 17-year-olds, but there is none for this age group.
Awaiting Additional Information
For some time, it was thought that the United States would have a vaccination for children under the age of five in the early months of 2022. Initially, just two doses of the Pfizer and BioNTech vaccines for this age range were tested, but the results were not as expected. The firms declared they would test a third dose. The companies, however, filed a request for an urgent use authorization of 2 doses of the vaccine at the request of the FDA and stated that they would keep testing a third dose while the two doses went through the regulatory procedure.
The plan was revised once more in mid-February. In order to move forward with urgent use authorization, director of FDAs Center for Biologics Evaluation and Research, Peter Marks said that the agency needs to examine results from a current trial of a third dosage in these younger children. After all, parents would have had to queue for the third-dose data. Dr. William Towner, who directs the Southern California Permanente Medical Group's, Clinician Investigator Program, said regarding the vaccine studies that the immunogenicity analysis actually demonstrated that the immune reaction really wasn't where it should be. He believes the evidence suggests that this is going to be a three-dose series for toddlers.
Pathologist-in-chief, Dr. James Versalovic at Texas Children's Hospital, where several Pfizer and Moderna paediatric trials are taking place, agreed that two dosages didn't seem to be enough. In regards to immune response, the data was not as robust as they had expected it to be, says the researcher, referring to youngsters aged 2 to 4.
Researchers working on the trials for the youngest children have the advantage of seeing what happens in other age groups. After observing breakthrough virus infections in 2021, experts rapidly realised that adults and adolescents required booster dosages, as per Versalovic. They just flipped in late December and started pushing full-steam ahead with a third dose while monitoring these youngsters during the trials, he explained. Before data can be presented to the FDA, children who have received a third dose must be tracked for a minimum of two months. Investigators across the nation agreed that they are gathering data as swiftly and carefully as possible. By April, as per Bourla, the organisation should have data from its three-dose vaccine experiment for this age range.
Dr. Sharon Nachman, a paediatric infectious disease specialist with Stony Brook University who has also been working on the Pfizer trials, said that the studies must be done well, and if it takes a little longer, that's what it is; one must do it right. She said that she believes researchers should be cautious when measuring the immunological response. How long will it persist, and, more significantly, what did the third dose seem to imply?
Dr. Jennifer Nayak, a paediatric infectious disease expert associated with Strong Memorial Hospital, University of Rochester Medical Center, concurred that evaluating all of the data rather than just a portion of it makes more sense. She adds that what it ultimately comes down to is attempting to gather as much data as possible, be as cautious as possible, and give the best suggestions.
Dr. Jonathan Hand, an infectious disease specialist from Ochsner Medical Center in New Orleans, said that all of the meticulous work that has gone into such trials should comfort parents once a vaccine is ready. Data integrity and improved patient safety are really important in this process, he opines. The good news is that no safety risks have been discovered, according to authorities.
The evidence clearly shows that there is a high level of safety. The vaccines are safe, but not all of them have been disclosed or publicly revealed, says Dr. Janet Englund, who works on the Pfizer research at Seattle Children's Hospital.
Keeping up with the various variations
The most pressing questions are how efficient the vaccines are, as well as what the proper vaccination schedule and dose are? That question should be addressed by the results that will be disclosed in the coming weeks and months. They have always emphasised that their number one goal is to stop hospitalisation, Englund says. That said, families will like them to prevent the transfer in the home, notably if they have individuals in the home who are at risk, such as the elderly.
One issue would be that the vaccinations are being tested during a different viral phase, as scientists describe it. During the Delta surge, the COVID-19 vaccines were developed depending on the first variation and tested. Researchers are already gathering evidence on the third shot, which is dominated by the Omicron variety.
Omicron changed everything, Towner stated, as it was extremely altered and spread rapidly, as per the researcher. If the vaccine is given a go ahead, there's a risk that young children will receive it at a varied time than adults and teenagers. They could have a third shot as soon as two months following the second shot, rather than waiting four or five months like older people. Children aren't just miniature adults. Throughout childhood, they keep growing and evolving, as per Versalovic. This has an impact on how vaccines work.
Dr. Yvonne Maldonado, the Division of Infectious Diseases in the Department of Pediatrics at Stanford Medicine's Chairwoman and also the chair of the American Academy of Pediatrics' committee on infectious diseases, said that they should know what they have soon as she believes they are getting closer to some answers.
Dr. Claire Boogaard, a paediatric allergy specialist and medical director of the COVID-19 vaccine programme at Children's National in Washington, said it's worth remembering that scientists are still starting to learn about the disease as they try to find ways to combat it, as with any vaccine trial. A lot could change quickly with variants.
They want to inspire people to simply be flexible, because that's truly what science requires, as there are a lot of variables at play, adds Boogaard. All of the scientists involved in these experiments said they understand why parents want to ensure a safe environment. Marks said he understood parents' frustration when the FDA delayed the meeting of its vaccination advisors.
Meanwhile, he recommended parents continue taking COVID-19 precautions. As mask mandates decline, make absolutely sure everyone around the child is immunised and rely on "masking measures," which has become much more difficult, he says. Marks stated that the FDA will move "quite quickly" once it has the requisite data to make a determination on immunizations for younger children.