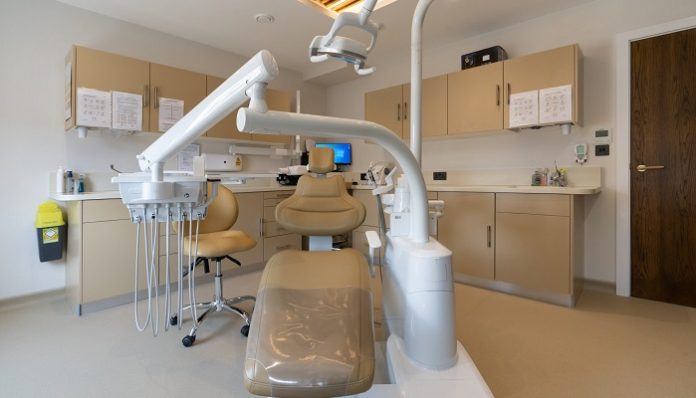 Proper dental office design can significantly impact the patient and staff experience and the efficiency and productivity of the practice. An optimized layout, placement of fixtures and equipment, and attention to ergonomic details during dental office construction and design can improve patient comfort, reduce repetitive strain injuries for dentists and hygienists, and boost efficiency by streamlining workflows. A successfully designed dental office incorporates patient and staff needs from the start, with ergonomics and efficiency in mind. Paying close attention to dental office design factors like layout, flow, equipment choices, lighting, and aesthetics can set the stage for success.
Office Layout
The layout of a dental office significantly impacts patient experience and workflow efficiency. A logical, patient flow-oriented layout helps patients move smoothly through the various stages of their visit. The reception and waiting area should be the first thing patients see upon entering the office. This allows new arrivals to check in and wait comfortably and out of sight from areas where dental procedures take place. Treatment rooms should be arranged so the noisiest procedures, like drilling, are separated from labs and consult rooms. Sterilization and lab areas are best placed together away from public spaces to contain supplies and noise. The number, size, and locations of treatment rooms depend on the procedures performed and the size of your practice. In general, positioning rooms so your view extends to surrounding areas ensures you can monitor patients and assistants without disruptions. A well-conceived office design that places key functional areas in the proper flow maximizes space utilization, enhances patient comfort, and ensures the smooth functioning of your dental practice.
Treatment Room Design
The design of treatment rooms is fundamental in optimizing dental practice workflow and efficiency while minimizing strain on staff. Proper placement and selection of chairs, lights, and counters are essential. Adjustable chairs with customized settings for each practitioner allow dentists and hygienists to work in a neutral posture that reduces neck, back, and shoulder strain. Electric handpieces connected to automatic central suction systems lessen fatigue over manual tools. Treatment room lights should be positioned so that dentists do not have to bend or twist the neck to illuminate the oral cavity properly. Custom dental cabinets equipped with drawers and trays within easy arm's reach of practitioners prevent unnecessary body movement when retrieving tools and supplies. Cabinets with anti-microbial finishes help maintain proper sanitary conditions. Counters at an ideal height lessen the need for dentists to lean over patients for prolonged periods. Features like touch-screen monitors instead of traditional switches, and soundproofing help create a calm and comfortable environment for both staff and patients. With proper arrangement of treatment room furniture, equipment, and supplies, custom dental cabinet manufacturers can help minimize repetitive motions and reduce physical and visual fatigue for staff, thereby improving the overall efficiency and quality of dental procedures.
Choosing Fixtures and Equipment 
When choosing dental fixtures and equipment, selecting options that promote ergonomic posture and reduce strain is crucial. This includes choosing dental cabinets with features like soft-close drawers to minimize repetitive motions and adjustable shelves that can be tailored to each practitioner. Dental chairs with many customizable settings allow dentists to work in a neutral position that alleviates neck, shoulder, and back pain over time. Adjustable-height counters and stools permit hygienists to find the perfect working height that minimizes forward bending. Opting for lightweight handpieces and electric tools rather than air-driven ones helps reduce physical fatigue.
Dental lights with flexible, adjustable arms and heads spare dentists from excessive neck-bending and twisting. Choosing countertops made of materials that don't retain heat and bacteria, like quartz, helps promote a hygienic work environment. Equally important is selecting durable, easy-to-maintain equipment that minimizes downtime due to repairs. Reliable custom dental cabinet manufacturers focus on longevity when designing cabinets with features like full extension drawers, ball bearing slides, and stainless steel or epoxy-coated finishes for superior durability. Prioritizing ease of maintenance when choosing equipment ensures consistent, undisturbed dental care for patients over the long term. Overall, selecting ergonomic fixtures and dependable equipment from manufacturers focusing on the dental professional's well-being promotes greater comfort, productivity, and care quality.
Designing for Patient Comfort
Many small details can come together to make patients truly comfortable during their dental visits. Features like ambient, non-glaring lighting that simulates natural light and soundproofing between treatment rooms reduce anxiety and create a peaceful environment. Textural wallpapers and warm, neutral colors create an inviting and calm aesthetic. Patients should have cushy, oversized dental chairs that minimize pressure points and discomfort during more prolonged procedures. In the waiting area, chairs with adjustable lumbar support, footrests, and side tables provide extra convenience. Music can be piped into public areas at low volumes to distract patients during anxiety-inducing treatments. Overall, incorporating design elements that result in maximum visual and auditory comfort allows patients to fully relax so they can undergo necessary procedures with minimum stress.
Prioritizing proper ergonomics and an efficient layout remains essential for any successful dental office business venture. A well-designed functional office can help reduce risks for both dental professionals and patients with the help of dental office construction Illinois. Thank you for your time and consideration.