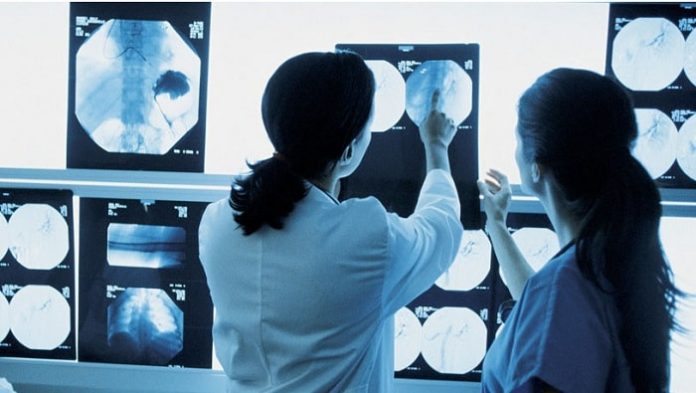 An 8% drop in overall MRI procedure volume in the United States in 2017 does not seem to have dampened plans at many hospitals to buy new scanners, according to a new market research report by IMV Medical Information Division.
That could be because procedure volume is in the middle of a dramatic shift from independent imaging centers to hospitals. Altogether, an estimated 36 million MR procedures were performed in the United States in 2017, which is an 8% decrease from 39 million procedures performed in 2016, according to the report.
"This represents the first downswing we have observed in the total number of MR procedures performed in the US," says Lorna Young, senior director of market research at IMV.
But a closer look at the numbers indicates a major shift in where MRI studies are being performed. The number of procedures performed in hospital MRI departments increased about 9% from 16.2 million to 17.7 million, while those performed in nonhospitals decreased about 20% from 22.5 million to 18.0 million.
"MR procedures in independent imaging centers have been hit hard," Young notes.
Compared with 2016, MR procedures performed by independent imaging centers have declined from 37% of total MR procedures to 31% in 2017, while MR procedures performed by hospitals and their associated imaging centers increased from 63% to 69% of the mix. The estimates take into account all MR procedures, including those reimbursed by Medicare and third-party payers. While all MRI sites are dealing with a number of issues, independent imaging centers are particularly sensitive to reduced reimbursements, managing prior authorization processes, maintaining accreditation, and staying abreast of how changes in health care policies will impact their operations.
This has a direct impact on their future purchase plans for MRI. Although independent imaging centers comprise one-third of MRI sites, they make up only 26% of the sites planning MRI system purchases over the next three years. The imaging centers that are planning MRI purchases are also more cost-constrained, as more than 40% are considering the purchase of refurbished MRI units, compared with nearly 20% of the market overall.
However, the outlook for the MRI market as a whole is positive. Survey results indicate 30% of all MRI sites plan to purchase a fixed MRI system over the next three years, which is up from 24% of MRI users reported by IMV in 2014. An additional 25% of users who responded that they "maybe" plan to purchase a fixed unit represent a significant but less certain potential market for MRI systems.
While 1.5 T units are still the mainstay of the modality, Young notes that more than one-quarter of the MRI sites that are planning to purchase are planning to acquire 3 T units.
The report is based on responses from 404 MRI administrators who participated in IMV's nationwide survey in August 2017. Their responses have been projected to represent the 8,555 short-term general hospitals and imaging centers in the United States that use fixed MRI systems or mobile service providers to perform MR imaging, as identified by IMV.