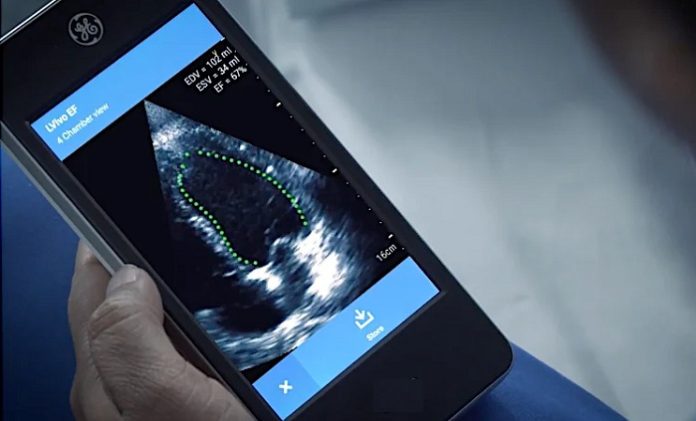 GE Healthcare announced that it has developed a new AI tool focused on cardiac imaging. The news came as the company launched its newest point-of-care ultrasound (POCUS) system, Venue Fit, which was designed to be used in tight, compact spaces.
The AI offering can be used alongside GE Healthcare's full line of Venue ultrasound systems. Its RealTime EF software continuously monitors a patient's ejection fraction in real time, a feature intended to help specialists need fewer electrocardiograms. The tool also includes new settings for lung visualization and identifying signs of potential kidney infection.
Joseph Minardi, MD, a physician with experience using this newest AI offering, said it and GE Healthcare's Venue systems have been an especially helpful combination during the ongoing COVID-19 pandemic.
"COVID-19 has had a huge impact on my practice as we're currently seeing a surge in the emergency department, and I've been taking my Venue Go with me everywhere I go," Minardi, chief of the division of emergency and clinical ultrasound and director of the center for POCUS at West Virginia Academic Medical Center, said in a prepared statement. "With the new Venue tools, I don't have to struggle with the interface to be efficient. I can bring the device in with me, scan the patient, and, using the Lung Sweep and RealTime EF (ejection fraction), I have the information I need right away."
"This past year we've seen point of care ultrasound take a prominent place at the bedside for clinicians, driven by its intuitive design and AI-powered diagnostic prowess," added Dietmar Seifriedsberger, general manager of POCUS at GE Healthcare. "Understanding healthcare's growing resource constraints and the challenges of today's world, we're expanding our Venue Family and offerings to help improve our customer's workflow efficiency and diagnostic confidence."