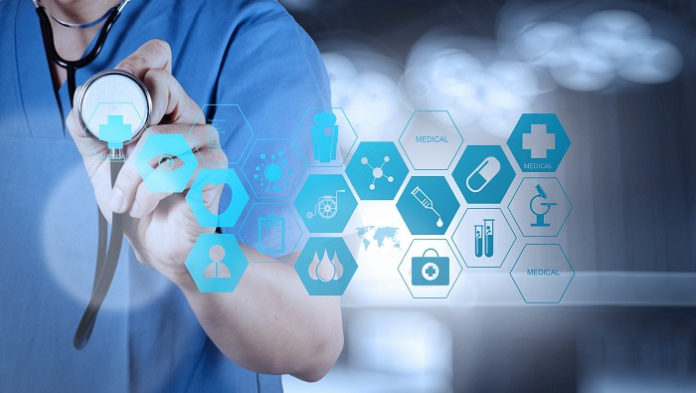 Jefferson Health has partnered with West Coast venture capital firm General Catalyst to launch a Philadelphia-based company they hope will lead the digital transformation of health care.
"The goal is to try to build a defining software company for health care that has the DNA of an elite health care company like Jefferson and the DNA of an elite technology company like ours," said Hemant Taneja, managing director of General Catalyst.
Dr. Stephen Klasko, CEO of Jefferson Health and president of Thomas Jefferson University, said while the company has been operating in stealth mode, he has already started getting calls from the leaders of several large health systems who want to be part of, and invest in, the venture.
"We have created a digital health company that will be based in Philadelphia and [focus on] health assurance for people across the country," Klasko said. "The center of the universe for this will not be in the Silicon Valley, it will be in Philadelphia.
"The secret sauce of what we are doing together is [the understanding] that 98 or 99% of the people in Philadelphia are not patients," he said. "They are people that would love to be able to thrive without health care getting in the way. … At Jefferson we've made the long-term decision, and this is where Hemant and I really believe we will be incredibly successful, that Jefferson will be the place for people — while they are well — to get help to thrive without health care getting in the way. That way, when they are sick, they are not going to go up and down the Schuylkill Expressway and decide whether they should go to Penn or Jefferson for care because Jefferson is already their partner in health assurance."
Taneja defined health assurance as an emerging category of consumer-centric, data-driven health care services that are designed to bend the cost curve of care and help people stay well.
Klasko said supporting that health assurance strategy, for Jefferson, means investing in technological advancements and forming partnerships like the one it has with Palo Alto-based General Catalyst.
Jefferson and General Catalyst intend to provide more details on the project, including the company's name, early next year. They have recruited Dan Goldsmith — a tech industry veteran with two decades of software and services experience — to lead the initiative. Goldsmith, the former president of Instructure and senior executive at Veeva Systems, will also be part of Klasko's leadership cabinet at Jefferson.
The new company was launched earlier this month with a staff of about two dozen people, including Jefferson's 17-person in-house digital innovation team. The number of employees is expected to grow into the thousands over time, Taneja said.
Recommended
Neither Jefferson nor General Catalyst disclosed their initial investment to launch the new company.
Taneja said businesses across different sectorshave focused on organizing content, communities and commerce online in the last two decades.
"The opportunity in front of us, which frankly has been accelerated by Covid and the pandemic, is to intentionally organize care online," he said. "Our belief is the secret to that foundationally is a true partnership between technology and health care. That is what Steve and my work together, and what our organizations are doing together, symbolizes.
"What we are doing [at General Catalyst] is putting a team together and locking arms with the team at Jefferson and putting together new models for how technology and digital transformation of health care is actually going to happen," Taneja said. "Rather than having a typical Silicon Valley mindset of 'Let's go disrupt an industry,' it's been about 'Let's be partners first.' The goal is to help technology provide operating leverage, true operating leverage, for Steve's business and then as a model for the rest of the industry."
Klasko said an important part of the initiative will be using technology to address disparities in access to health care that continue to be a problem in Philadelphia and the rest of the country.
Taneja said the process for achieving their goal will involve putting together a continuum of care from virtual to physical, which will require a "fundamentally different way" of thinking about technology, infrastructure and consumer experiences. He noted most major health systems have innovation arms. "Steve and I have talked about how you have to infuse innovation into the entire organization," Taneja said.
Klasko and Taneja first met about three years ago when Taneja invited Klasko to a dinner he was hosting with a group of health system leaders during the annual Healthcare Information and Management Systems Society conference.