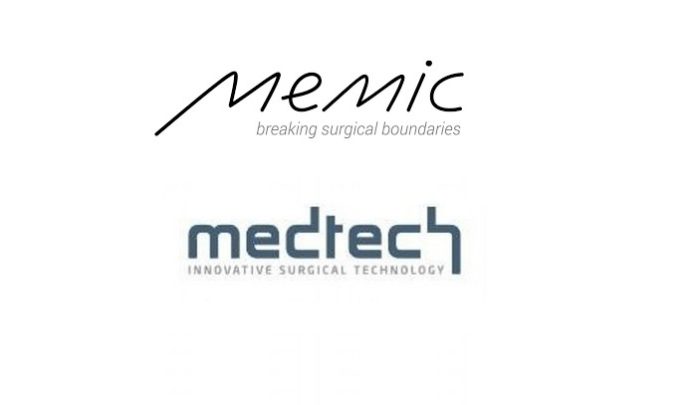 Memic Innovative Surgery Ltd. (the "Company" or "Memic"), a medical device company dedicated to transforming surgery with its proprietary surgical robotic technology, and MedTech Acquisition Corporation ("MedTech"), a publicly traded special purpose acquisition company (SPAC) focused on medical technology, including surgical robotics, announced that they have entered into a definitive agreement for a business combination. Upon the closing of the transaction, the combined company will operate under the Memic name and Maurice R. Ferré, MD, an independent director of MedTech and current Chairman of the board of Memic, will become Executive Chairman of the combined company. Memic will apply to have its ordinary shares listed on The Nasdaq Stock Market ("Nasdaq"). The business combination is expected to be completed in the fourth quarter of 2021.
"We are pleased to reach a merger agreement with MedTech, which represents a significant opportunity to advance the robot-assisted surgery market in ways that, until now, have been unattainable," said Dvir Cohen, co-founder and Chief Executive Officer of Memic. "We believe the Hominis platform has the potential to transform the way surgeons perform robot-assisted procedures, beginning with our currently FDA-authorized indications that include transvaginal benign hysterectomy. Our partnership with the MedTech team, which provides decades of collective experience in surgical robotics, is an important step in bringing our advanced technology to medical facilities and patients across the United States and the world. We look forward to entering the public markets and working together with MedTech in the next phase of our company's journey." 
"This agreement with Memic reflects the continued commitment of our management team and board of directors to deliver value to our stockholders," said Chris Dewey, Chief Executive Officer of MedTech. "Following a comprehensive review of investment opportunities, we were impressed with the highly accomplished management team at Memic and its disruptive, minimally invasive, cost-effective Hominis system, which positions the Company well for substantial growth and profitability. We believe that Memic's innovative technology, coupled with our team's expertise in successfully commercializing medical device companies, has the potential to create significant value for stockholders in the years ahead."
"We believe that the Hominis platform represents the most significant advancement in soft-tissue surgical robotics in recent decades and this agreement further validates how our technology is positioned to transform the surgical robotics sector," said Maurice R. Ferré, MD, Co-founder of MAKO Surgical, Inc. "Hominis is able to perform robotic transvaginal techniques that were previously unfeasible, fulfilling a significant unmet need in women's health, and we believe it has the potential to be applied to a broad range of indications in the future including general surgery."
Company Overview
Hominis received de novo marketing authorization from the FDA in February 2021 for use in single site, natural orifice laparoscopic-assisted transvaginal benign surgical procedures, including benign hysterectomy. It is the first and only FDA-authorized surgical robotic platform that features miniature humanoid-shaped robotic arms that provide human level dexterity, multi-planar flexibility and 360 degrees of articulation, allowing it to reach the entire surgical site. The Company's initial target addressable market is over 1 million women's health procedures in the United States and over 4 million globally. The Company plans to expand within women's health, as well as into additional applications including general, colorectal, thoracic, transoral and transrectal surgeries.
The biomimetic instruments are designed to replicate the motions and capabilities of a surgeon's arms, with shoulder, elbow, and wrist joints. Multiple instruments can be introduced into the body through a single portal and the 360-degree articulation offers the ability to bend and work around anatomic barriers, as well as optimal access and working angles. The system's proprietary instruments and human-like features enable surgeons to perform indicated gynecologic procedures using the transvaginal approach, which research shows results in better clinical outcomes for patients, including reduced pain, recovery time and rates of infection and no visible scarring. 
The small, compact and mobile design of Hominis also offers a minimal footprint, with simple docking and a short setup time for surgeons, without requiring a dedicated operating room. Hominis can be purchased at a significant cost advantage compared to other available robotic technology.
Memic has applied for a CE Mark for the Hominis system in additional countries outside the United States with decisions and expanded commercialization pending.
Transaction Overview
Upon closing of the business combination, the combined company will have an estimated pro-forma equity value of more than $1 billion, assuming no redemptions by MedTech's public stockholders. The combined company's estimated cash balance will consist of MedTech's $250 million cash held in trust, assuming no redemptions by public stockholders, $76 million from the private placement of ordinary shares with investors (PIPE), and $63 million from the current balance sheet of Memic, less estimated transaction expenses and operational expenses through closing. The combined company is expected to hold approximately $360 million in cash, less transaction and operational expenses until closing, to fund the business through its investment phase and to positive cash flow, assuming no redemptions by MedTech's public stockholders. The PIPE is led by various investors, including Bridger Healthcare, Ltd., The Kraft Group, Monashee Investment Management LLC, Pura Vida Investments, Wellington Management, Ken Langone, Peregrine Ventures, HighSage Ventures, and management and board members of MedTech. Memic's existing stockholders will be rolling 100% of their equity into the combined company.
Following completion of the transaction and the PIPE and assuming no redemptions by MedTech's public stockholders, the security holders of Memic are expected to own approximately 61.6%, MedTech stockholders 24.7%, PIPE investors 7.5%, and MedTech's sponsor 6.2% of the combined company. The proposed transaction has been approved by the boards of directors of Memic and MedTech and is subject to the approval of the stockholders of Memic and stockholders of MedTech and the satisfaction or waiver of other customary conditions. 
Additional information about the proposed transaction, including a copy of the business combination agreement and an investor presentation, will be filed by MedTech in a Current Report on Form 8-K with the U.S. Securities and Exchange Commission ("SEC").
Advisors
BofA Securities is serving as sole financial advisor to Memic. Greenberg Traurig, LLP is serving as legal counsel to Memic. 
BofA Securities and Raymond James & Associates, Inc. and Wells Fargo Securities, LLC are serving as lead joint placement agents on the private offering (PIPE). Latham & Watkins LLP is serving as legal counsel to the placement agents.
Raymond James & Associates, Inc. is serving as sole financial advisor to MedTech and acted as sole book-running manager for the MedTech's IPO in December 2020. Foley & Lardner, LLP is serving as legal counsel to MedTech.