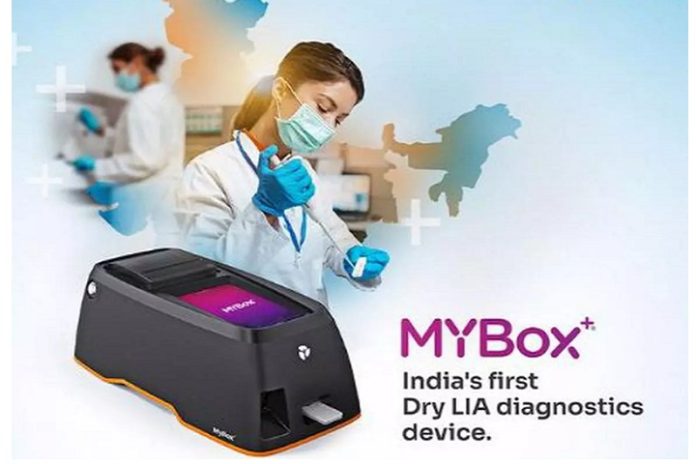 Mylab Discovery Solutions, a leading biotech firm in India, launched Mybox+ diagnostic device with a range of important tests including thyroid panel (T-3, T-4, TSH), cardiac marker (Troponin), and biomarker (CRP, D-Dimer).
The introduction of MyBox+ and its Dry Luminescence technology represents a transformative step forward in the field of diagnostics. It empowers small labs and clinics, enabling them to offer a broader range of tests and improve patient care. This technology marks a departure from traditional liquid reagent-based testing methods, offering a game-changing solution for small labs and clinics that previously faced limitations in performing certain tests. Until now, many small labs had to rely on outsourcing these tests to larger facilities, which often resulted in delayed results and increased costs associated with sample transportation.
MyBox+ is a portable device powered by optical AI engines, to deliver highly accurate, rapid quantitative and qualitative results in clinical samples. The device can be used to conduct tests for 30+ diseases and can invaluable diagnostic tool that can be easily set up in small labs and centres.
Hasmukh Rawal, MD & co-founder, Mylab said, "The launch of these Dry-LIA Test with MyBox+ represents our commitment to provide healthcare professionals with advanced tools to facilitate early diagnosis and better patient outcomes. These Tests utilize state-of-the-art dry luminescence technology, providing rapid and reliable results within minutes even at small centres. By bringing advanced testing capabilities to small labs, we aim to democratize diagnostic services, ensuring that critical tests are accessible to all, regardless of geographic location or facility size".
Dry Luminescence Assay testing is a diagnostic technique that utilizes luminescent reactions to detect and quantify specific substances or biomarkers in biological samples. Unlike traditional liquid-based assays, dry luminescence assays are designed to be performed on test strips, without the need for processing.
The detection of thyroid hormones, including triiodothyronine (T3), thyroxine (T4), and thyroid-stimulating hormone (TSH), is essential for accurate diagnosis and effective management of thyroid conditions such as hypothyroidism (underactive thyroid) and hyperthyroidism (overactive thyroid); Detecting Troponin levels is crucial in diagnosing and managing cardiac conditions. CRP is an essential biomarker used to assess inflammation within the body and aids in the diagnosis and management of various conditions, including infections, autoimmune diseases, and cardiovascular diseases. D-Dimer test is a crucial diagnostic tool in evaluating thrombotic disorders; etc.