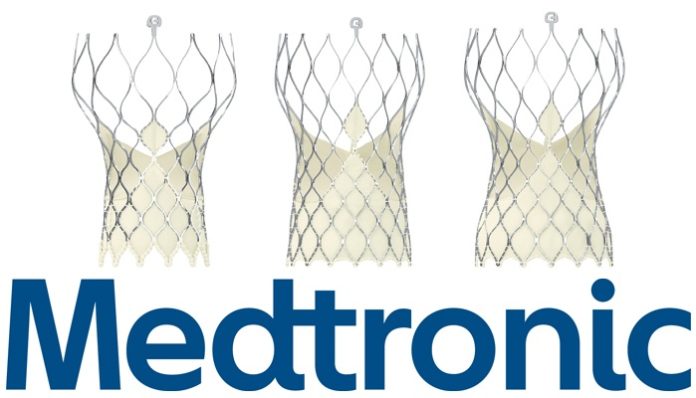 Medtronic announced results of 400 patients treated in the United States and Canada from the main cohort of the Optimize PRO clinical study evaluating valve performance and procedural outcomes associated with an "optimized" pre- and post-procedural TAVR care pathway, utilizing the cusp overlap technique to deploy the Evolut valves. The cusp overlap technique is designed to help implanters assess and achieve the target implant depth to reduce interaction with the conduction system. Findings were presented as a featured Hotline Trial at EuroPCR 2022.
The study results show that the cusp overlap technique led to more predictability and control resulting in a single-digit pacemaker implantation rate (9.2%), a low 30-day mortality rate (0.8%), median length of hospital stay of one day, and upon discharge, no cases of moderate/severe paravalvular leak (PVL) (0%) and 78% of patients had none/trace PVL. The lowest pacemaker implantation rates were observed when all steps of the cusp overlap technique were followed.
"The results demonstrate significant improvement for TAVR with the Evolut valve, some of the best results in an Evolut trial we have ever seen in a trial," said Kendra Grubb, M.D., surgical director of the Structural Heart and Valve Center at Emory University in Atlanta, and co-principal investigator in the Optimize PRO study who presented the data at the meeting. "Adopting the cusp overlap technique and clinical pathways resulted in single-digit pacemaker rates out to 30 days, next-day discharge in the majority of the patients, and remarkably low rates of paravalvular leak."
The Optimize PRO study utilizes a TAVR care pathway to evaluate common practices and shared experiences such as conscious sedation and early mobilization. A conduction disturbance pathway evaluates efficiencies and heart team considerations for monitoring and managing patients with conduction disturbance who might be considered for a pacemaker post TAVR.
"We are committed to improving the TAVR care pathway with simple and repeatable techniques that implanting centers can use to help improve procedure efficiencies and success," said Neil Yanke, vice president and general manager of the Structural Heart business, which is part of the Cardiovascular Portfolio at Medtronic.  "The findings presented – coupled with our recent data presented at ACC 2022 establishing the CoreValve/Evolut TAVR systems as the first and only TAVR platform to demonstrate significantly lower rates of structural valve deterioration (SVD) vs. SAVR at five years – help to further establish the robust clinical evidence physicians need to make the best decisions for their patients,"
The post-market, prospective, multi-center study is evaluating outcomes associated with procedure-related techniques and post-procedure transcatheter aortic valve replacement (TAVR) when using the self-expanding, supra-annular Evolut™ PRO and PRO+ TAVR systems in patients with symptomatic severe aortic stenosis. The current interim analysis includes 400 main cohort patients and 104 roll-in patients at up to 46 sites in the United States and Canada. The primary endpoint includes the rate of all-cause mortality or all-stroke at 30 days with secondary endpoints of discharge time, percent of patients with more than moderate aortic regurgitation, and the rate of pacemaker implant for new-onset or worsening conduction disturbance at 30 days. The study will also evaluate rehospitalization rates and discharge time at 30 days and one year.
The Medtronic CoreValve™ Evolut™ R, CoreValve™ Evolut™ PRO, and Evolut™ PRO+ systems are indicated for relief of aortic stenosis in patients with symptomatic heart disease due to severe native calcific aortic stenosis who are judged by a heart team, including a cardiac surgeon, to be appropriate for the transcatheter heart valve replacement therapy.