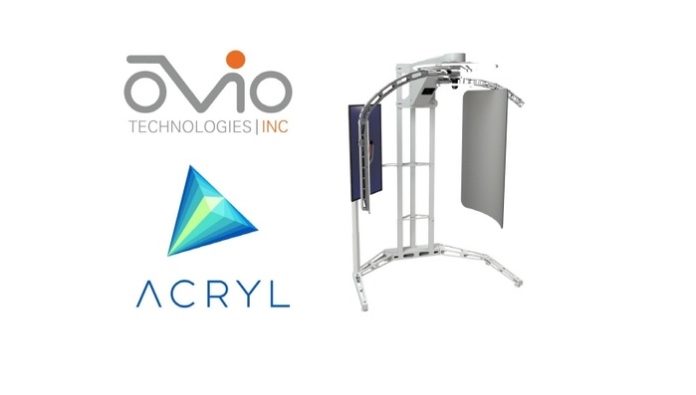 oVio Technologies, Inc, a pioneer in 360-degree dimensional imagery, and Acryl Inc., a global leader in artificial intelligence technology, announced that they have signed a definitive agreement to develop image/video analysis AI software that will be embedded in oVio's 360TM platforms and future products to identify and track skin anomalies and markings. The patented oVio360TM platform captures 360 images at 1° increments, providing 4- or 8-megapixel images formats that can be annotated and shared, in addition to compiling a video from the images. oVio also supports an API for integration with existing databases and systems.
Acryl Inc., based in Seoul, Korea, plans to develop AI software for oVio's platforms. The human- recognition AI model will leverage Acryl's Jonathan® AI platform and include technology to compute human dimensions and recognize skin anomalies including scars, marks, and tattoos. Burns, moles, and other skin features can also be added to the recognition model to enable automated AI/machine learning analysis. By analyzing oVio's dimensional imagery, the AI model can determine anatomical changes over time and even recognize a specific person by identifying characteristics such as tattoos and other skin markings.
Both companies plan to demonstrate oVio360TM platforms enhanced with human-recognition AI technology at conferences, seminars, and other public venues. The combination of high-fidelity 360- degree imagery with human-anatomy AI provides significant value to applications in multiple sectors, such as medicine & healthcare, identity management, law enforcement, & security. Acryl's official spokesman stated, "Acryl was named a pre-unicorn company in 2020. This contract is a step on the way to becoming that unicorn. We will expand overseas through cooperation with oVio, using the opportunity to grow into a global company."
George Rebensdorf, CEO of oVio, stated. "We are fortunate and gratified to be able to work with Acryl, an acknowledged global leader in AI technologies. We believe the integration of our areas of expertise can create products that can make the world better, smarter, and safer." Official oVio spokesperson available for interview and/or comments upon media request.
About oVio Technologies, Inc.
oVio is a technological leader in 360-degree dimensional imagery. Founded in 2015 and based in Newport Beach, California, oVio provides high output, data-rich, 2D and 3D hi-resolution image files in combination with advanced analytical tools, operating as a data platform serving multiple sectors in advanced visual recognition software and technology. oVio's efficient 360-degree imaging technology brings speed and efficiency to imaging processes that have previously required laborious manual work flows.