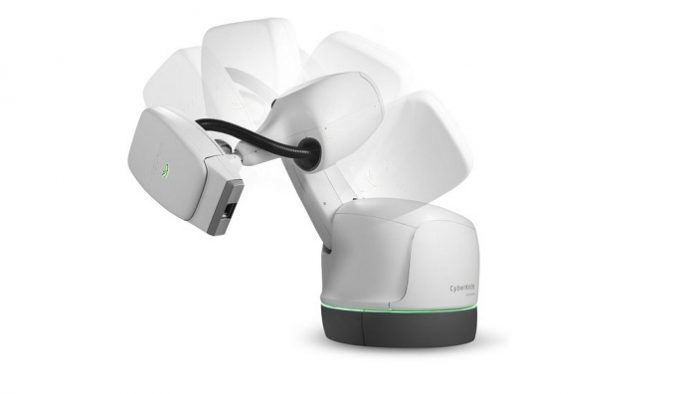 Accuray Incorporated's CyberKnife® M6™ System with the InCise™ Multileaf Collimator (MLC) is enabling clinicians at South Florida Radiation Oncology's cancer center in Stuart, Florida to treat more patients on a daily basis than they ever thought possible.

The CyberKnife platform specializes in delivering stereotactic radiosurgery (SRS) and stereotactic body radiation therapy (SBRT) treatments with sub-millimeter precision. The InCise MLC, in addition to enhancing system performance, significantly improves the system's treatment efficiency, allowing more patients to complete treatment in less time, and expanding the range of tumor types and sizes that can now be treated.
South Florida Radiation Oncology is part of 21st Century Oncology, the largest radiation oncology provider in the United States. Dr. William F. Crook and Dr. Mark L. Perman are leading radiation oncologists at the Stuart, Florida center, using their combined 30 plus years of experience with the CyberKnife platform to help improve the lives of people who have been diagnosed with cancerous or non-cancerous tumors.
"I've used the CyberKnife System for more than 10 years. It is my 'go to' radiation therapy device for treating tumors near critical organs where extraordinary precision and accuracy are required," said Dr. Perman. "Using the CyberKnife M6 with the InCise MLC, lung and prostate SBRT treatments can now be delivered in standard radiation therapy treatment times. Our ability to deliver the highest levels of precision and shorter treatment times for more patients each day is nothing short of amazing."
The CyberKnife System has evolved to reflect advances in stereotactic radiation therapy, transforming the treatment of both malignant and benign tumors within all areas of the body. The system's ability to automatically stay on target despite patient and tumor motion is what differentiates it from other types of radiation therapy delivery systems. It tracks the tumor continually throughout the treatment session so that it can deliver radiation to where the tumor is, not where it used to be. This unique dynamic tracking and correction capability – the only one of its kind – enables physicians to deliver high doses of radiation with exceptional accuracy while minimizing side effects. The result is personalized treatment designed to meet the unique needs of each patient.
"We're proud to support Dr. Perman, Dr. Crook and their team in their efforts to improve the lives of people diagnosed with cancer. Their real-world experiences using the CyberKnife M6 System with the InCise MLC demonstrates greater versatility and efficiency for delivering radiation therapy treatments," said Lionel Hadjadjeba, M.D., Senior Vice President, and Chief Commercial Officer at Accuray. "At Accuray, we are all very passionate about providing our customers with innovative products that will enhance the quality of care they can give to their patients. The results achieved by Dr. Perman and Dr. Crook confirm that we are well on our way to accomplishing this goal."
About Accuray
Accuray Incorporated is a radiation oncology company that develops, manufactures and sells precise, innovative treatment solutions that set the standard of care with the aim of helping patients live longer, better lives. The company's leading-edge technologies deliver the full range of radiation therapy and radiosurgery treatments. For more information, please visit www.accuray.com