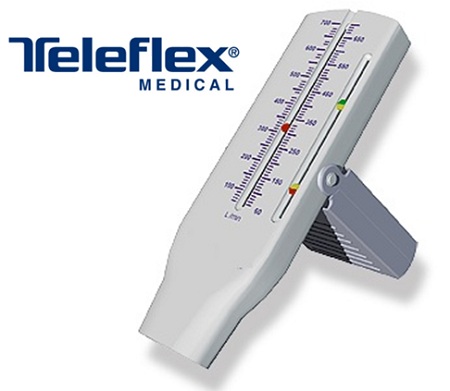 Teleflex Incorporated , a leading global provider of medical technologies for critical care and surgery, has announced its launch of the AsthmaMDTM Peak Flow Meter designed to help asthma patients to track and measure lung performance.
Asthma is a chronic disease characterized by recurrent attacks of breathlessness and wheezing which can vary in severity and frequency from person to person.1 According to the Centers for Disease Control, 1 in 13 people have asthma2 and each year, asthma causes 1.6 million emergency visits3 and 439,000 hospital stays.4
The AsthmaMDTM Peak Flow Meter was developed for use with the AsthmaMDTM smartphone app, which helps patients digitally log peak flow meter readings, track symptoms, medications, and notes – empowering patients to create a digital journal of their asthma activity. Offered currently as a complimentary download by AsthmaMD, Inc., * the smartphone companion app encourages patients to share their activity with their physician care team via the cloud-based MyAsthmaMDTM Physician Portal (also offered by AsthmaMD, Inc.).
"Teleflex is committed to connecting clinicians and patients with technology that improves patient outcomes," said James Ferguson, President Respiratory Division, Teleflex Incorporated. "Asthma is the third-leading cause of hospitalization in children5 and Teleflex is proud to now offer the AsthmaMDTM Peak Flow Meter to help these and other asthma patients."
To learn more about the asthma management portfolio from Teleflex, please visit 
Teleflex.com
.
About Teleflex Incorporated
Teleflex is a global provider of medical technologies designed to improve the health and quality of people's lives. We apply purpose-driven innovation – a relentless pursuit of identifying unmet clinical needs – to benefit patients and healthcare providers. Our portfolio is diverse, with solutions in the fields of vascular and interventional access, surgical, anesthesia, cardiac care, urology, emergency medicine, and respiratory care. Teleflex employees worldwide are united in the understanding that what we do every day makes a difference. For more information, please visit 
teleflex.com
.
References:
1.Asthma. World Health Organization. http://www.who.int/topics/asthma/en/. Accessed March 22, 2017
2.Asthma. Centers for Disease Control. https://www.cdc.gov/asthma/default.htm. Accessed March 22, 2017
Teleflex, the Teleflex logo, and Hudson RCI are trademarks or registered trademarks of Teleflex Incorporated or its affiliates, in the U.S. and/or other countries. © 2017 Teleflex Incorporated. All rights reserved. MC-003204
Teleflex Incorporated
Jake Elguicze
Treasurer and Vice President, Investor Relations
610-948-2836