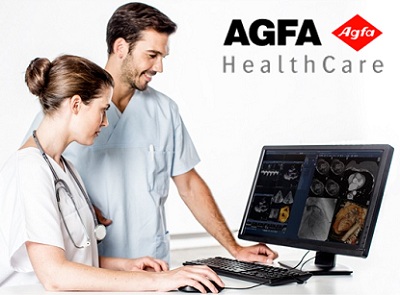 Agfa HealthCare announces that it is releasing a new version of its Enterprise Imaging for Cardiology platform at the American College of Cardiologists' ACC.17 expo. Customer-driven enhancements include new structured reporting modules for congenital echocardiology and nuclear cardiology.
Single point of access and task-based workflow Enterprise Imaging for Cardiology is an important part of the Enterprise Imaging converged platform, which offers a care-centric workflow that is standardsbased, improves interoperability and enables a comprehensive patient health record across departments within a single facility or between multiple facilities.
With Enterprise Imaging for Cardiology, cardiologists have a robust environment providing a single point of access to patient information from different sources. They can quickly retrieve a patient's complete cardiology file, generate a report and distribute it, all during one session, even from a remote location. Images, reports and relevant, sophisticated toolkits are supported by the task-based workflow that aligns with and supports their clinical workflow.
The new features provide support for congenital echocardiology and nuclear cardiology, deeply integrated into the Enterprise Imaging platform. 2/3 "Cardiology continues to be an image-intense domain, and the Enterprise Imaging for cardiology platform offers a value-based care solution providing access to clinically relevant cardiology data," comments James Jay, Global Vice President, Agfa HealthCare. "By enhancing the features and functions to cover more subspecialties, we extend the support for patient-centric care all along the care continuum."
Demonstration of work-in-progress: NLP-based concept for structured reporting, powered by IBM Watson* At ACC.17, Agfa HealthCare will also show an early concept for automated structured reporting based on natural language processing (NLP) and cognitive analytics, a work in progress in collaboration with IBM Watson Health. This collaboration illustrates how clinicians may be able to use normal dictation methods for reporting and still achieve structured report as well as structured data using a natural language processing and cognition based algorithm powered by IBM Watson, to convert dictated reports into structured data.
About Agfa
The Agfa-Gevaert Group is one of the world's leading companies in imaging and information technology. Agfa develops manufactures and markets analogue and digital systems for the printing industry (Agfa Graphics), for the healthcare sector (Agfa HealthCare), and for specific industrial applications (Agfa Materials). Agfa is headquartered in Mortsel, Belgium. The company is present in 40 countries and has agents in another 100 countries around the globe.
About Agfa HealthCare
Agfa HealthCare, present in one hospital out of two, is a leading provider of eHealth & Digital Imaging solutions. Care organizations in over 100 countries rely on Agfa HealthCare to optimize their efficiency and improve patient care. For more information on Agfa HealthCare, please visit 
http://global.agfahealthcare.com/
or the 
Agfa HealthCare Blog