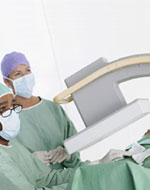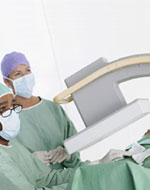 This breakthrough technology gives you the clarity, space and convenience to carry out cardiac, vascular and orthopedic surgery and the most challenging minimally invasive procedures with more confidence.
Next generation mobile c-arm with flat detector technology
Excellent contrast for the most demanding cardiac, vascular and orthopedic surgery
Fast start-up time streamlines workflow in the OR
Consistent high image quality through unique automatic calibration
1.6k x 1.4k image matrix provides high resolution in a mobile C-arm
Large Field Of View is unaffected by geometrical distortions and supports wide range of applications
Flat detector is not affected by magnetic distortions so system can be freely positioned
See more with a super thin flat detector
The super thin flat detector on the Veradius frees up valuable space in the OR. It gives you more room to see team members and coordinate tasks. And it gives you more space to see your patient. The compact mobile C-arm system also makes it easier to work around the table during delicate cardiac, vascular and orthopedic surgery.
See clearly with new mobile C-arm technology
Veradius brings new imaging clarity and power to your surgical suite. It provides superb imaging support for a full range of procedures, from kidney drainage and Abdominal Aortic Aneurysm repair to percutaneous valve replacements and neuro stimulation. That makes Veradius one of the most versatile imaging systems you can choose for your OR.