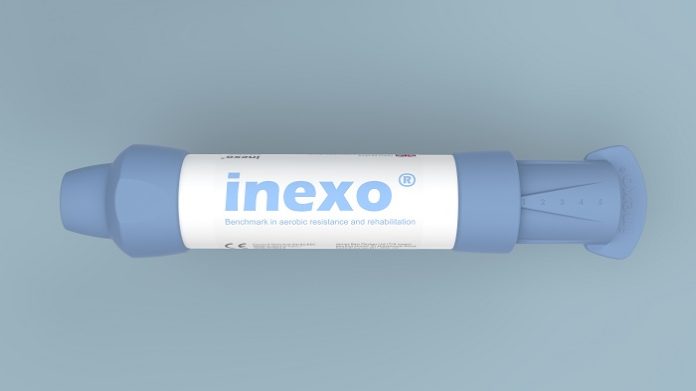 Globally recognised performance additive manufacturers RADICAL MATERIALS have collaborated with James Barr Design Ltd to launch the 'inexo®', an inspiratory muscle training (IMT) device that aids in the recovery and rehabilitation of respiratory conditions and potentially symptoms of long COVID. The patent-pending valve technology used in the inexo® allows the user to select five levels of breathing resistance as a way of exercising the respiratory system and to aid lung performance. The inexo® functions during both phases of the breathing cycle, but also allows the user to focus on just one direction of airflow. Overall, making the device a stellar alternative to other similar products on the market.
The importance of infection control, particularly in light of COVID-19 and the associated respiratory issues surrounding the intended users, led designer James Barr to incorporate industry-leading antimicrobial additive SteriTouch® into the TPE-based device. Consequently, inexo® devices protect the user against 99.99% of bacteria, including bacteria that can be particularly detrimental to respiratory conditions, such as: MRSA, Pseudomonas Aeruginosa and Streptococcus Pneumonia. The SteriTouch® additive achieves this by utilising silver ion-based technology to destabilise bacteria cell membranes, blocking the further replication of DNA.
Regarding his choice for using SteriTouch®, James Barr had this to say: "As the inexo® is a Class 1 medical device, using the SteriTouch® additive gives an extra level of protection to guard against infection."
About Radical Materials: the SteriTouch parent company
Founded in 2003 by Nick Corlett and Huw Durban as a technically-focused antimicrobial brand, Radical Materials is now a worldwide developer and manufacturer of specialist materials. Using the very latest technology, Radical Materials are able to add further performance to any polymer or coating, supplying additives and compounds into almost every industry worldwide. The company's portfolio now includes SteriTouch ® , a market leading brand in the antimicrobial sector; Scopic X-ray, magnetic and laser detectable additives; Konduct thermally conductive polymer compounds and masterbatches; and the SteriType ® workspace protection range. Headquartered in Ebbw Vale, South Wales, UK, Radical Materials is the only company in its field offering such a broad range of additives, all supported by extensive technical facilities including formulating, testing, extrusion and moulding capabilities. Radical Materials excels at developing effective additives for customers who have previously failed to find a solution. With year-on-year growth, the majority of the company's turnover results from export on a global scale; customers include organisations such as the NHS, and brands such as World Dryer, Universal Electronics, Deflecto, Mothercare, Sennheiser, Addis Housewares and Crown Paints.
About James Barr Design Ltd: the designer of inexo®
Company owner James Barr BSc (Hons) established a limited company in 2014 to work directly with clients. With a network of trusted manufacturing partners, James Barr Design has reliable links to prototype and manufacture products. James has been a consultant designer since 1999, working in a wide range of industries as both a consultant and in-house senior designer. Consultancy work requires the ability to research and quickly understand any products unique challenges and opportunities. Running in-house design teams requires great attention to detail for all aspects of a product launch including quality control, graphic design and packaging.