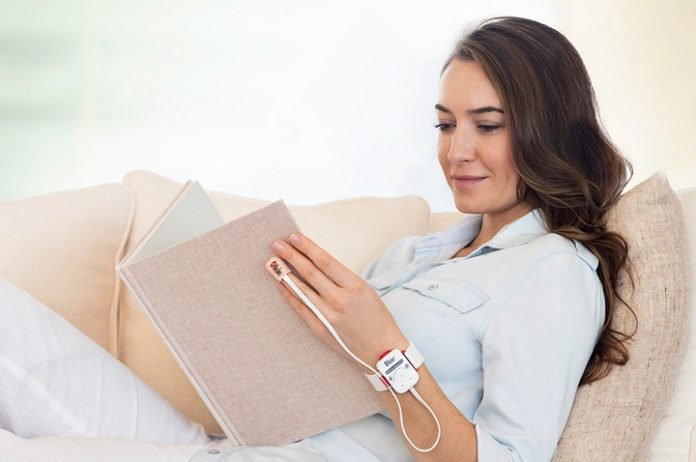 Masimo announced the launch of the Radius T° Continuous Thermometer for consumers. Unlike spot-check, episodic thermometers, the wearable, wireless Radius T° measures body temperature continuously, seamlessly transmitting data and customizable temperature notifications to the user's smartphone – helping caregivers, such as parents, monitor loved ones' temperatures even while they sleep.
Radius T° represents a paradigm shift in thermometry by making it continuous, wearable, and hassle-free. Traditional periodic and invasive methods depend on the user repeatedly conducting a series of steps that can interrupt daily activities, including sleep, and can miss body temperature trends and patterns. With a traditional thermometer, a person may only notice a spike in temperature hours after a spike has occurred, or may not even become aware of it if it is during sleep.
By contrast, Radius T° continuously and seamlessly measures temperatures using a small, inconspicuous, wearable sensor that can be easily applied to anyone from children to elderly adults – with no action needed after initial application to the skin. Radius T° eliminates manual measurements while providing continuous insight into changes in the user's temperature and helps users understand which way their temperature is trending. In addition, Radius T° uses proprietary algorithms to provide body temperature measurements for users five years or older that approximate oral temperature, not just external skin temperature. Radius T° provides temperature measurements with laboratory accuracy within ±0.1°C, whereas other oral thermometry solutions typically have laboratory accuracy within ±0.2°C.
Earlier this year, Masimo launched Radius T° as part of the Masimo SafetyNet™ remote patient management solution, for use both in hospitals and by patients at home. Dr. Neal Fleming, M.D., Ph.D., Vice Chair for Education in the Department of Anesthesiology and Pain Medicine at UC Davis Health, commenting on his experience using Radius T°, said, "Radius T° is noninvasive and convenient for patients. I do not have to interrupt their daily activities or their sleep and it provides me continuous trend data that is a powerful guide to patient care. It makes it easier for me to recognize possible changes in their symptoms."
Flexible and slim, each disposable Radius T° sensor can be worn comfortably for up to eight days, and is water resistant during shower and exercise. Users are free to carry on with their daily activities and sleep, without interruption or hassle – all while Radius T° continuously collects temperature data. Using built-in Bluetooth®, the sensor easily pairs with the Masimo Radius T° App on the user's smartphone, providing real-time temperature values with user-definable automatic notifications (for example, when temperature exceeds a certain user-selected threshold or if it spikes), as well as detailed historical trending data, revealing the baseline and fluctuation patterns unique to each person that can help users determine whether a rise in temperature warrants action. In addition, the user-friendly Masimo Radius T° App can support multiple family member profiles and can be easily set to schedule medication reminders.
Joe Kiani, Founder and CEO of Masimo, said, "We're excited to expand our growing line of consumer solutions, which includes MightySat® and Masimo Sleep™, with the Radius T° Continuous Thermometer. For years, clinicians have trusted Masimo technology to monitor patients in the hospital. With Radius T° and our other consumer solutions, we're bringing our expertise and experience in accurately and reliably measuring physiological data from the hospital to the home."
About Masimo
Masimo is a global medical technology company that develops and produces a wide array of industry-leading monitoring technologies, including innovative measurements, sensors, patient monitors, and automation and connectivity solutions. Our mission is to improve patient outcomes and reduce the cost of care. Masimo SET® Measure-through Motion and Low Perfusion™ pulse oximetry, introduced in 1995, has been shown in over 100 independent and objective studies to outperform other pulse oximetry technologies.1 Masimo SET® has also been shown to help clinicians reduce severe retinopathy of prematurity in neonates,2 improve CCHD screening in newborns,3 and, when used for continuous monitoring with Masimo Patient SafetyNet™ in post-surgical wards, reduce rapid response team activations, ICU transfers, and costs.