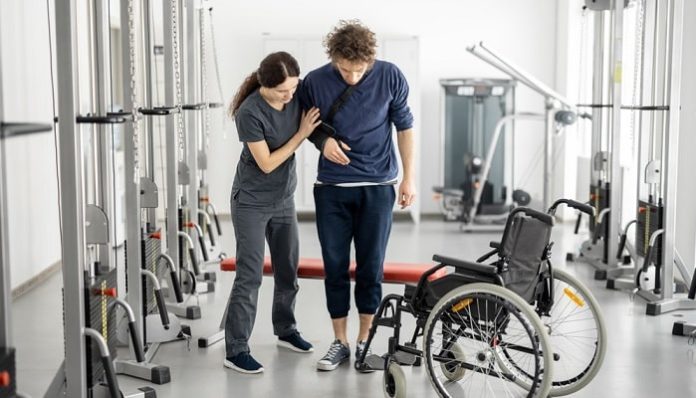 As a physical therapist, you're responsible for ensuring your clients have a great environment that facilitates their healing progress. Remember, most patients coming in for physical therapy treatment are in pain. Thus, it'd be best for you to enhance their experience as they go through the process.
It's every patient's goal to meet a therapist that helps them show results. Consider that they'll rate your services depending on the experience they get from your facility. Several factors influence how they perceive the whole process. As such, you must ensure your patients are satisfied as they undertake the program.
To achieve that, you must think outside the treatment box. Generally, you aim to improve the quality of care you provide to the patient. This way, you can have them stick around or have them market your services by word of mouth. Below are some ways you can use to enhance a patient's experience:
Prioritize A Friendly Experience
The first impression means a lot for physical therapy treatment. The first day the patient meets you may influence their overall experience. On that account, you have to welcome them and make them feel at home.
Typically, physical therapy patients need motivation as the process isn't a walk in the park. Take, for instance, a sports person who walks into your office for treatment with a dislocated shoulder. They'll need encouragement to push through the pain. If the receptionist doesn't give encouraging words, it may negatively affect their morale as they begin the healing journey.
If you keep a friendly environment, you send a message to your patients that your place can make them feel better. Also, taking your time in handling one patient at a time makes them feel that they receive all the attention from you, which could boost how they view your services.
If you'd like to check out therapy providers prioritizing and providing a friendly, positive, and comfortable environment to enhance their patient's overall experience, you can visit Rmspineandsport.com.
Engage With The Patient Even After Treatment
It's essential to keep in touch with your patient even after they're through with their therapy appointments. You aim to make them return to everyday life as soon as possible, making it significant to engage with them even after treatment.
Many communication tools foster patient-therapist relationships. You can engage your patients in online sessions and follow-ups to check their progress from such engagement. Doing so will make your patient feel satisfied using your services and might refer their friends to you. Additionally, they'll more likely prefer you over other therapists if they need additional therapy services and are more likely to consult with you on any relatable issue concerning their care.
Educate the Patient On The Methods Of Treatment
Most patients resist physical therapy because they know nothing about the treatment methods. To some, what they believe they have could be just a pain that any painkillers could cure. Contrary to their belief, their pain needs more than painkillers, and it's up to you to educate them on the importance of going for physical therapy.
You can educate your patients on a procedure before making them go through it. If they ask you about the effects and effectiveness of the treatment, respond to their questions and offer extensive explanations.
Educating your patient on the treatments shows them you're concerned. Giving them room to ask questions will make them feel in control of their health and well-being. Thus, they respond to the therapy more cordially. If your patients show signs of resistance, you can schedule meetings to enlighten them on the importance of the treatment.
Again, your patients will be more compliant with the treatment procedures if they understand them better. Your newsletter or blog posts can consistently give your patients tips on treatment. Alternatively, you can make personal calls and send personalized emails to your patients. Whatever means you settle for, ensure it's regular and consistent.
Use Appointment Reminders
Patients may not always make it to your scheduled appointment. Remember, the average life is usually busy, and your patients may be entangled in other life cares and forget about their appointment. Missing one or coming late may considerably set you back, given you could have other patients on the waiting list. Appointment reminders help minimize or eliminate such setbacks.
It wouldn't be polite to ambush them with appointments. Some might be too busy to disrupt their routine. If a patient comes for a session and you're unavailable, it's worse when you don't communicate your absence.
To avoid such disappointments and prevent confusion, you can use appointment reminders to inform the patient when you expect to meet them. The good news is that you can use automated appointment reminders to pass on such information. It could be through text, email, or phone calls.
However, remember that even as you pick the right channel, consider the patient's opinion on the most comfortable tool for them. You can save a lot of time with efficient means of communication.
Measure The Outcomes
Data is necessary for tracking down the outcome of a treatment. Keeping records of the patient's progress as they undergo treatment is essential. You'd also want to evaluate the achievement of the procedure.
Expect to have positive or negative outcomes. With adverse effects, you'll be able to catch on to some issues that could be why the treatment isn't working as expected. This way, you can avoid patients dropping out of therapy. Again, you'll significantly enhance your patient's treatment with a relevant explanation. On the other hand, positive outcomes can tell the patient's gains. The positive effects also motivate them to come to their next appointment. They form the basis for patients to celebrate their gains from the treatment.
In your case, the adverse outcomes send you back to the drawing board. Aside from the patient's consistency with the treatment, you might need to evaluate the process. You might need to develop better approaches that positively impact the patient as they undergo therapy.
Create A Practical Payment Plan
Payment strategy can influence your patient's experience. Medical expenses are always a huge topic for patients. For instance, someone may put their hopes in paying through insurance, only for you to say you don't accept all insurance companies. It'd affect their experience with your company. As such, you must inform your patients beforehand about your payment policies.
On this point, it's helpful if you cover specific requirements in your plans. Your payment plan should include:
Refund Policies
Regulations on installment plans
Insurance companies accepted by your company
Need for payments on every appointment
How to check for benefits when patients use your services
Acknowledgment forms
Such elaborate explanations will help avoid misunderstandings with your patients. It also supports seamless operations in your organization. You won't need to chase your patients around for payments. Therefore, it's necessary for you to create a payment plan and set concrete policies for your clients.
If possible, you can have the payment plans streamlined to avoid errors. For instance, you can also notify your clients through a text that you've received the payment. Such an experience will keep your patients glued to your services.
Introduce Your Patients To A Referral Program
Everyone gets excited when they can get something for free. You can use a referral program to introduce new services, such as acupuncture, which isn't typical among patients. Alternatively, you can limit some sessions a patient pays for and offer one for free. You can consider starting the process with a free diagnostic test. Such free giveaways entice patients to your services. If you commit to such free giveaways with your referral programs, ensure they match the standard services.
It'll be even better when you engage the patients in your program. You can offer a fitness item for every third referral a patient makes. Your patients will be thrilled to share the experience with their friends and relatives. They'll also have much to say about their experience with your services.
Ask For Their Feedback
An old but timeless and effective way of learning what to improve is by asking for your patient's feedback. From their suggestions, you can identify areas for improvement. If you want honest recommendations, you can have a suggestion box in your reception area so that the patient feels comfortable suggesting anything. This way, they won't need to hide anything from you.
Your patient's ideas and suggestions will help you improve your services. Thus, asking them how best you can enhance their experience is essential. Additionally, incorporating their ideas could set your clinic apart from your competitors. This way, you'll have a competitive advantage over them.
Conclusion
Just like any service, customer experience measures your success rate. Thus, enhancing your patients' overall experience is paramount for your company as this will directly affect customer satisfaction.
Building a working relationship with your patients benefits your clinic through returning clients and referrals. Therefore, remember and apply the tips and strategies above to enhance your patients' overall experience in physical therapy.