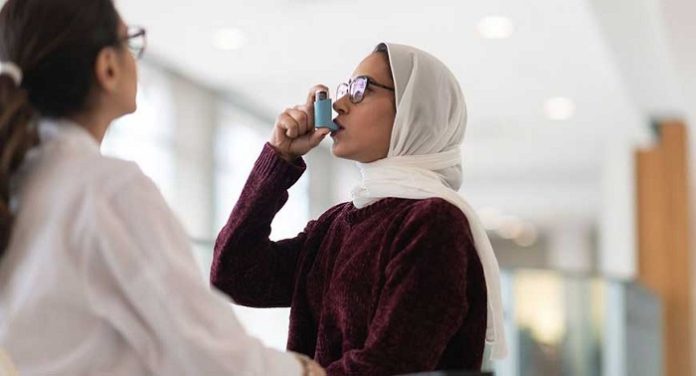 In Singapore, a multi-center, extensive registry of people with severe asthma has been established.
The Singapore General Hospital, Changi General Hospital, and Tan Tock Seng Hospital are three SingHealth hospitals that are part of the research network that created the Singapore Severe Asthma Registry (SSAR), the first of its kind in the nation. The research network also includes Lee Kong Chian School of Medicine and Nanyang Technological University, Singapore.
The SSAR, according to a news release, aims to increase knowledge of severe asthma, gather information about the efficacy and security of treatment, and find indicators of treatment success. With a goal of registering 200 more patients by year's end, it has so far gathered data from 139 people with severe asthma. Demographic information, health records, aggravation history, care plan, and biomarkers including lung spirometry testing results, complete blood count, and other clinical features have all been gathered and anonymized.
It is claimed that the real-world data acquired from this registry may help inform the formulation of policy and the application of guidelines. The Academic Respiratory Initiative for Pulmonary Health (TARIPH), a study network led by LKCMedicine at NTU, will be in charge of managing the SSAR. In order to answer research concerns about severe asthma, particularly those pertaining to treatment alternatives, the organisation will use SSAR data. Additionally, it will concentrate its studies on identifying the factors that indicate treatment effectiveness, the results of personalised therapies, the application of biologics as a form of treatment, and the examination of undetected severe asthma in general practice.
The International Severe Asthma Registry (ISAR), a global collaboration of researchers from 26 nations, has also been connected to the SSAR. In order to conduct research and better understand how bad asthma impacts patients differently in different geographic groups, national registries share their data. TARIPH may evaluate specific indicators and responses to therapy in Singapore with patients abroad by accessing data from other nations thanks to its membership in ISAR.
One in five kids and at least 5% of the population in Singapore have asthma, with one in 20 asthmatics suffering from severe cases. The overall economic cost of this ailment to the nation is $1.5 billion.
The formation of SSAR will not only enable them to find better ways to deliver more individualised, aimed, and efficacious plans of care to patients, but they will also truly comprehend the hardship of severe asthma in Singapore and start introducing initiatives to address problems at a systemic level, said Associate Professor Mariko Koh, a senior consultant at SGH's Department of Asthma. People with severe asthma experience a greater treatment burden and have different clinical trajectories.
Assoc. Prof. John Arputhan Abisheganaden, TARIPH co-chair and head consultant at TTSH's Department of Respiratory and Critical Care Medicine, continued, The SSAR will go a long way towards recognising asthma patients who are at elevated danger and providing them with deeper insights from bench to bedside in enhancing the care and supervision of such patients."
Scientists will also be able to compare Asian patient data with non-Asian patient data from patients in other nations using SSAR. Assoc. Prof. Sanjay H. Chotirmall, co-chair of TARIPH and assistant dean of LKC Medicine, says that most of the evidence used to make the current guidelines for treating severe asthma comes from patients who are not Asian.
He added that there is growing evidence from a spectrum of lung diseases that Asian and non-Asian patients react differently to changes and have lung diseases that act differently, and that this is probably due to genetic variations, environmental triggers, wellness behaviours, and health system policies.
Being a member of an international registry provides them with rich data that they can use to enhance outcomes for Singaporeans with severe asthma, Assoc. Prof. Chotirmall added. Clinical trials have been unable to replicate the real-world findings and insights provided by ISAR, which has data on 12,772 patients from 26 different nations. By joining ISAR, SSAR will establish a beneficial partnership in which it can contribute to and gain from ISAR's research Prof. David Price, director of the Singapore-based Observational and Pragmatic Research Institute, an organisation that also supports the ISAR, made this remark.
A long-term study in New Zealand is following anonymized data from more than 550,000 people to investigate the effect of several morbidities on the likelihood of hospitalisation or death from cardiac illnesses. This study is one of the most recent data science endeavours in the Asia-Pacific region.
Another initiative involves creating a database of elderly Australians to create a comprehensive picture of the ageing process and conduct research on significant and as-yet-unknown implications of residential aged care. New information gleaned from this partnership will be critical in controlling patients with severe asthma in the community as the hospitals become more engaged in enhancing Singaporeans' population health. The quality of life for those with severe asthma would be improved by the personalization of effective asthma therapies made possible by registry data, the CGH Medical Board's vice chairman, Augustine Tee, made a statement.