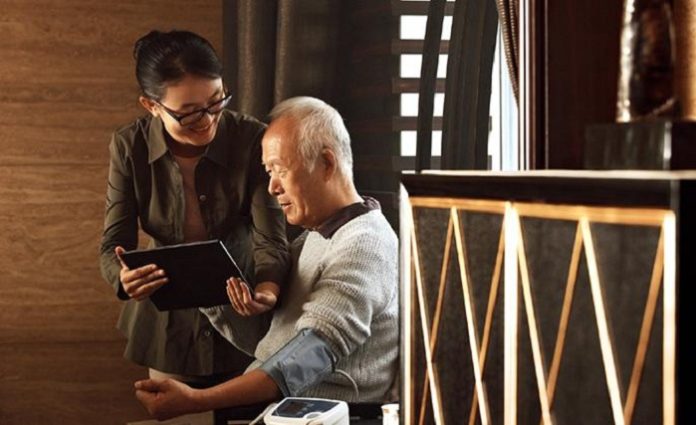 National Heart Month, Qualcomm, through its Wireless Reach™ initiative, partnered with George Washington University, One Economy, Cricket Communications and VOCEL on the Wireless Reach Pill Phone Research Study.

The study examined whether 3G-enabled cell phones loaded with a mobile medication reminder application could help patients with chronic high blood pressure take their prescribed pills on a more regular basis. High blood pressure, also known as hypertension, affects about one out of three adults—31.3%— in the United States. Studies have shown that patients with high blood pressure often take only 40-60% of prescribed pills.
Hypertensive patients who don't take their pills correctly put themselves at higher risk for potentially serious complications such as heart disease, kidney disease and stroke. Furthermore, they often can end up in the emergency room. Medication adherence is of particular concern in underserved populations.
Our partners in this study shared a common commitment to exploring whether mobile technology could empower patients to improve self-management of their disease.
• George Washington University Medical Center designed, conducted and analyzed the Wireless Reach Pill Phone Study. One Economy, a global non-profit organization, aided in patient recruitment, study design and execution, and project management.
• Cricket Communications, a national wireless network operator, provided 3G mobile handsets–enabled with Qualcomm chipsets — and service over its 3G EV-DO network.
• And VOCEL, a mobile health care application developer, provided the FDA-cleared Pill Phone application.
The study's subjects included 50 Medicaid patients in Washington, D.C., who were on an average of three blood pressure medications and eight total medications and were having trouble taking their medications regularly.
The mobile Pill Phone application provided patients with many benefits such as the ability to receive visual and audible medication dosage reminders, tracking and storage of dosage records, image displays of prescription pills and access to real-time information about potential drug side effects and interactions. Health care providers were able to use a Pill Phone web application to remotely monitor patient adherence through a secure web site and intervene, if necessary.
The study's results are encouraging:
• Patients had a high level of acceptance and sustained use of the Pill Phone application.
• Participants were generally satisfied with the medication reminder software.
• There was a trend toward increased prescription refill rates with the use of the Pill Phone
application, and a decrease after usage of the application was discontinued.
Participants described how this technology intervention was a blessing, and affirmed how the reminder application aided them in taking their pills as scheduled.
Qualcomm believes that mobile broadband technology can improve people's lives and we're committed to exploring how wireless technology can address critical problems, including improving health care.