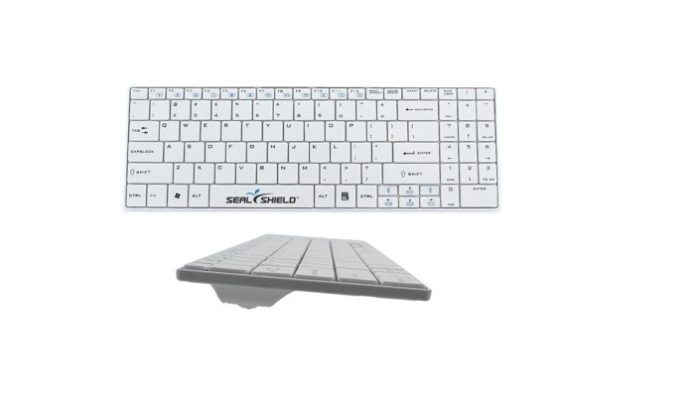 JAOtech announced an upgraded version of its fully sealed Wyki wireless keyboard, designed for use with its hospital Smart Terminals, medical all-in-one computers for use at the patient bedside. New features include a larger mouse pad, a numeric keypad, an improved tactile feel and a longer wireless range.
Healthcare keyboards have many users, and cross contamination from and to patients by these users is a serious risk. The JAOtech Wyki(tm) has been specifically designed as an infection-control keyboard that monitors its own disinfect status to safeguard both patients and staff. Wyki has been designed for the most sensitive areas of a modern healthcare environment providing smarter prevention and control of hospital acquired infections.
The Wyki offers a disinfection function which can be set to indicate when the keyboard needs to be disinfected. Unlike conventional computer keyboards that can harbor reservoirs of harmful bacteria, this unique function promotes cleanliness to combat cross-contamination. There are no covers to replace or dispose of. When the disinfect button is activated it will temporarily disable the keyboard, to prevent response to any accidental key presses. An LED on Wyki indicates when this feature is operational.
Other infection control features include an IP65 rated splash proof flat key design with smooth contours ensuring that the keyboard can be reliably cleaned with wipes or hospital-grade disinfectants. The keyboard base is manufactured using plastics injected with Novaron, a silver based inorganic anti-microbial agent, eliminating the spread of infection.
The keyboard is battery powered and charges using a unique Smart Docking interface. The new Wyki keyboard integrates seamlessly with existing and new JAOtech Smart Terminals, mounting below the terminal on a specially designed mounting bracket or pairing automatically for use wirelessly on a patient's lap or bedside table. Other new features on the latest Wyki include a 15 metre range, an improved tactile feel to the keys for easier lighter typing, a numeric keypad for enhanced data entry and a larger mouse pad. The new keyboards can be automatically paired with both new and existing docking stations. A wired version is also available.
About JAOtech
JAOtech is a multi-award winning market leader in the design and manufacture of a high performance, innovative range of embedded Smart Terminals. JAOtech patient entertainment and point-of-care terminals are medically compliant by design, and over 55,000 have been installed in hospitals worldwide in partnership with approved technology partners. The terminals provide a core solution for a host of interactive healthcare applications providing secure access to Electronics Medical Records (EMR) and offering triple-play solutions for patient entertainment. JAOtech is dedicated to the betterment of healthcare IT.