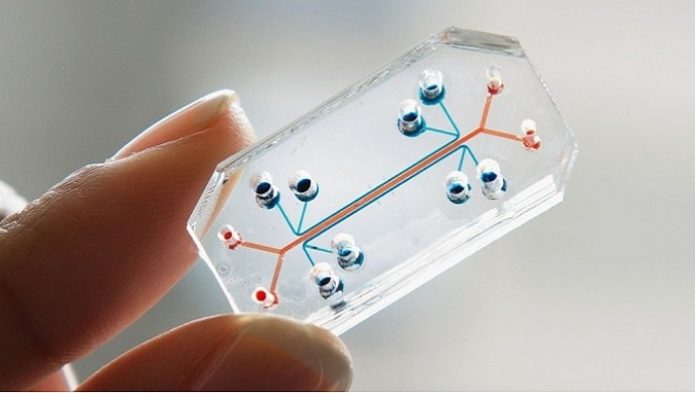 Two pharma giants — Roche and Takeda — are buying into a drug testing technology that wants to be the next generation's "lab rat," inking partnerships with the tech's maker to introduce the systems to their R&D labs.
The tech, made by Wyss Institute spinoff Emulate, includes small chips designed to hold living cells in chambers. These chips are engineered to recreate the environment cells might experience in the human body, introducing mechanical forces that mimic breathing, for example.
Geraldine Hamilton
Testing drugs in cells that are in dishes — or even testing drugs in animals — is a flawed process, Emulate's president and CSO Geraldine Hamilton tells me. Animals are not humans, and so they often fail to predict how drugs will perform in patients. And cells in dishes don't work like they do in the human body, so they aren't very predictive either.
Companies have been working on better ways to test drugs for a while, with companies like
San Diego-based Organovo "bioprinting" human tissue and StemoniX building "micro organs" by structuring human iPSC-derived cells into microtissues.
But Hamilton says both these technologies are lacking.
"There are key factors missing: mechanical forces, dynamic flow systems, circulating immune cells," she says. "While they retain some nice biologies, they're missing these elements."
Emulate's S-1 Organ-Chip technology. Photo courtesy of Emulate.
Now Roche and Takeda are paying to take Emulate's tech for a test drive. Roche will use Emulate's Human Emulation System across multiple R&D programs in a three-year partnership, with the aim of discovering and developing new classes of therapeutic antibodies and drug combinations.
One goal of the partnership is to use patient-derived cells to make headway on the idea of personalized drug safety, using the chips to test how a patient or patient group might respond to a drug. Scientists from both companies will work within Emulate's labs in Boston. The research will initially focus on using Emulate's "Lung-Chip" and "Brain-Chip," with the opportunity to expand to use other "Organ-Chips."
Takeda is specifically using Emulate's "Instestine-Chip" for gastrointestinal disease R&D.
"The ability to accurately model the intestinal epithelium is a key to opening up new insights into the complex pathways of GI diseases and drug mechanisms of action, and we are delighted to apply our Intestine-Chip to support drug innovation with Takeda, a world leader in developing treatments for GI diseases," Hamilton said.