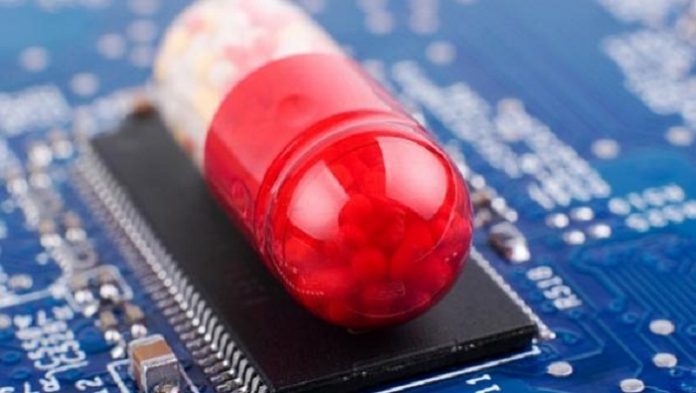 Otsuka Pharmaceutical Co., Ltd. (Otsuka) and Proteus Digital Health (Proteus) announce that the US FDA has granted the first approval of a digital medicine system, ABILIFY MYCITE® (aripiprazole tablets with sensor), a drug-device combination product comprised of Otsuka's oral aripiprazole tablets embedded with an Ingestible Event Marker (IEM) sensor.

The ABILIFY MYCITE System includes: ABILIFY MYCITE, the MYCITE® Patch (a wearable sensor, developed by Proteus); the MYCITE® APP, a smartphone application (app), used with a compatible smartphone to display information for the patient; and web-based portals for healthcare providers and caregivers that display a summary of aripiprazole ingestion over time.1 Only functions of the app related to tracking drug ingestion have been approved by the FDA.
ABILIFY MYCITE, an atypical antipsychotic, is indicated in adults for the treatment of schizophrenia, for the treatment of acute manic and mixed episodes, and maintenance treatment of bipolar I disorder as monotherapy, and as adjunctive therapy to lithium or valproate, and the adjunctive treatment of major depressive disorder.1 ABILIFY MYCITE is intended to track drug ingestion. The ability of ABILIFY MYCITE to improve patient compliance or modify aripiprazole dosage has not been established. The use of ABILIFY MYCITE to track drug ingestion in "real-time" or during an emergency is not recommended because detection may be delayed or not occur.
Elderly patients with dementia-related psychosis treated with antipsychotic drugs are at an increased risk of death (1.6 to 1.7 times) compared to placebo-treated patients. ABILIFY MYCITE is not approved for the treatment of patients with dementia-related psychosis. Antidepressants increased the risk of suicidal thoughts and behavior in children, adolescents, and young adults. Those on antidepressant therapy should be monitored closely for worsening, and for emergence of suicidal thoughts and behaviors. Advise families and caregivers of the need for close observation and communication with the prescriber.
"The approval of ABILIFY MYCITE, the first digital medicine system, means that for the first time in my years of experience as a psychiatrist, there is an innovative way to provide individuals with serious mental illness, and selected members of their families and care teams, with information on objective medication taking patterns to help inform the patient's illness management and personalized treatment plan. This information allows the opportunity for an open dialogue with the patient," said John Kane, MD, SVP, Behavioral Health Services, Northwell Health and Chair, Psychiatry, Donald and Barbara Zucker School of Medicine at Hofstra/Northwell. "Until now, pharmacologic therapy for serious mental illness has been missing a systematic approach to objectively track and signal that a patient has taken their drug."
A person living with serious mental illness, in collaboration with his or her physician, decides whether this new digital medicine system may help them manage their approach to treatment.1 The system has been designed for the individual with serious mental illness to allow them to record their daily medication intake and have a more informed dialogue with their healthcare team.1
The system is intended to integrate into individuals' lives, and individuals indicate through the app which member(s) of their care team can access information about their medication ingestion, activity, and self-reported mood and rest.1,4,5 For physicians, this information, assessed in collaboration with the individual, helps facilitate a more open dialogue.1,6 The hope is to provide additional clarity to better inform decision-making for physicians and their patients. Patients can discontinue sharing some information from the system, or opt out of the program altogether, at any time.
Otsuka's approach for this first-of-its-kind treatment is novel for a pharmaceutical company. As such, the launch of the ABILIFY MYCITE system will be conducted in close collaboration with only a select number of health plans and providers, who will identify a limited number of appropriate adults with schizophrenia, bipolar I disorder, or major depressive disorder who may benefit from this new digital medicine system.1 This limited rollout is purposeful, as having fewer people using the system initially means their prescribers, health plans, and Otsuka can focus on learning from these patients' experiences. Through ongoing feedback from those using the system every day, Otsuka will further enhance the experience for all prospective users of the ABILIFY MYCITE system. This initial limited rollout will be a crucial step in determining Otsuka's broader go-to-market plan.
Tatsuo Higuchi, president and representative director of Otsuka Pharmaceutical Co., Ltd., remarked, "This approval marks a potentially transformative juncture in our more than 25 years of experience in the field of mental health therapies. We remain committed to making a difference for individual patients and their care team by helping address the challenge of objectively measuring medication ingestion. Our rollout of the ABILIFY MYCITE system will be done in phases to obtain, and respond to, feedback from healthcare providers and their patients."
Andrew Thompson, president and chief executive officer of Proteus Digital Health said, "The time is right for the category of Digital Medicines to be available to appropriate patients with serious mental illness. Consumers already manage important tasks like banking, shopping, and communicating with friends and family by using their smart phones, as they go about their daily lives. With this FDA approval, Otsuka can help enable individuals with serious mental illness to engage with their care team about their treatment plan in a new way."
About the ABILIFY MYCITE® System
The ABILIFY MYCITE system is composed of the following components:
ABILIFY MYCITE, the first FDA-approved digital medicine system, is comprised of an Otsuka aripiprazole tablet embedded at the point of manufacture with an IEM sensor. This IEM sensor is the size of a grain of sand, and is made up of ingredients found in food.1 The IEM sensor activates when in contact with stomach fluid and communicates to a wearable sensor, called the MYCITE Patch. The IEM sensor is then digested and eliminated from the body.1
The MYCITE Patch detects and records the date and time of the ingestion of the tablet, as well as, certain physiological data such as activity level, and communicates this and the tablet ingestion data to the MYCITE APP on a compatible mobile device.1
The MYCITE APP allows individuals to review their objective medication ingestion and daily activity level, as well as enter their mood and rest.1 They can also invite others to view their data.1
Web-based dashboards are provided to healthcare providers and caregivers. These dashboards give the healthcare provider the ability to display the individual's drug ingestion patterns over time. With patient consent, selected members of the family and care team can also access this information, as well as, the individual's daily activity level and self-reported mood and rest.1
About Otsuka Pharmaceutical Co., Ltd.
Otsuka Pharmaceutical is a global healthcare company with the corporate philosophy: "Otsuka-people creating new products for better health worldwide." Otsuka researches, develops, manufactures and markets innovative products, with a focus on pharmaceutical products for the treatment of diseases and nutraceutical products for the maintenance of everyday health.
In pharmaceuticals, Otsuka is a leader in the challenging area of mental health and also has research programs on several under-addressed diseases including tuberculosis, a significant global public health issue. These commitments illustrate how Otsuka is a "big venture" company at heart, applying a youthful spirit of creativity in everything it does.
Otsuka Pharmaceutical is a subsidiary of Otsuka Holdings Co., Ltd. headquartered in Tokyo, Japan. The Otsuka group of companies employed 45,000 people worldwide and had consolidated sales of approximately USD 11 billion (€ 9.9 billion) in 2016.
All Otsuka stories start by taking the road less travelled. Learn more about Otsuka Pharmaceutical Company on its global website at https://www.otsuka.co.jp/en.
Learn more about Otsuka in the U.S. at www.otsuka-us.com
About Proteus Digital Health®
Proteus Digital Health is enabling a new category of therapy: Digital Medicines. These offerings include widely used drugs, formulated so they communicate when they have been swallowed; a wearable patch that detects medicines and captures physiologic response; mobile applications to support patient self-care and physician decision-making; and data analytics to serve the needs of health system managers. The company has more than 440 issued patents that protect this enabling technology, and regulatory clearances in the U.S., European Union and China.
Proteus Digital Health is privately held by investors that include Carlyle, Essex Woodlands, Kaiser Permanente®, Medtronic®, Novartis®, Otsuka®, Oracle®, and ON Semiconductor®. Further information is available at: www.proteus.com