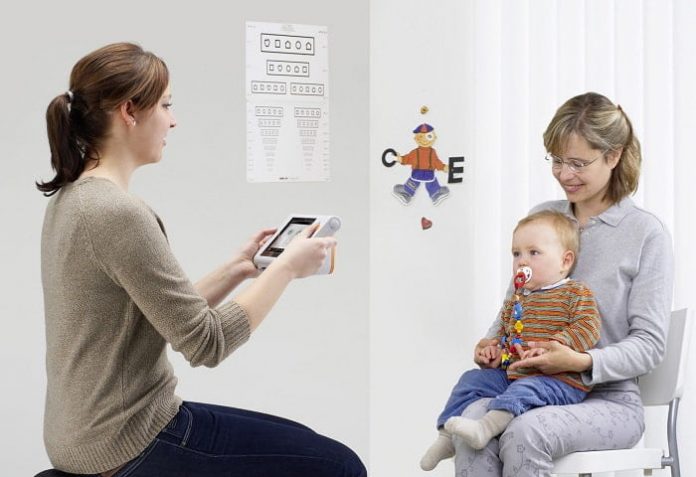 Palo Alto Medical Foundation, an affiliate of Sutter Health, a leading not-for-profit health care system in Northern California, and Plusoptix, a world leader in instrument based vision screening, announced they are working together to help improve routine vision screening for children in pediatric and family medicine clinics. More than 30 clinics at the Palo Alto Medical Foundation (PAMF) are utilizing vision screeners from Plusoptix as a way to ensure young children are thoroughly screened for eye disorders.
At PAMF, children are screened for vision problems during wellness visits starting at 3 years of age. As it is not always possible to test the vision of young children with an eye chart, pediatricians and other specialists at PAMF are able to use a Plusoptix vision screener. The vision screeners obtain reliable measurement values for the risk factors of amblyopia (lazy eye) and other ocular disorders.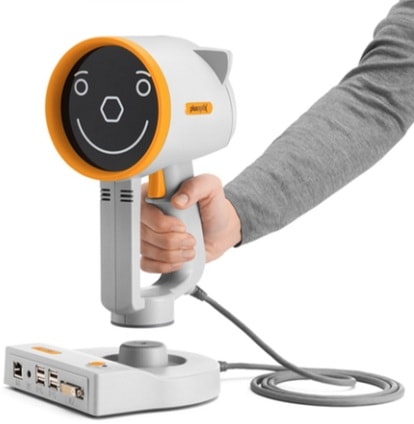 "It's challenging to test children's vision when they are really young," said Omondi Nyong'o, M.D., a specialist in pediatric ophthalmology at PAMF. "Our pediatricians wanted a technique that makes their work more accurate and streamlined so that they can test a child's vision even if the child won't cooperate. Otherwise, there is a risk that lazy eye and other potential disorders are not detected until a later age when it may be difficult or too late to fix things."
The vision screeners measure for risk factors including refraction (sphere, cylinder and axis), pupil diameter and degree of symmetry of corneal reflexes. With these measurement values, it is possible to detect prevalent childhood vision disorders that can lead to the development of amblyopia, including hyperopia (farsightedness), myopia (nearsightedness), astigmatism (blurred vision), anisometropia (unequal refractive power), anisocoria (unequal pupil size) and strabismus (eye misalignment).
PAMF pediatricians have the choice to use the PlusoptiX S16 and S12C vision screeners at a wellness visit for a 3 year old. At ages 4, 5 and older, children will continue to be tested by an eye chart, but if they are not cooperating, the pediatrician can test these children with the Plusoptix vision screener instead.
The eye chart test enables a pediatrician to test the entire circuit of a child's vision: from detecting light with the eye, to forming images in the brain, to the ability to identify and verbalize the eye chart symbols. The Plusoptix vision screeners focus on the first step in this circuit: they detect the eye's mechanical ability to accurately collect and focus light. In this way, the vision screeners can detect a preponderance of eye disorders that cause childhood visual problems, explained Dr. Nyong'o. If a disorder is detected, children are referred to ophthalmologists or optometrists for appropriate treatment.
"At Sutter Health we are committed to children reaching their full potential, and children with untreated amblyopia have difficulty achieving a potential typical for their age," Dr. Nyong'o said.
Before PAMF made vision screeners available in clinics, Dr. Nyong'o was the principal investigator for a research team that conducted a study comparing vision screening results for a group of 3-year-olds using an eye chart compared with a group using a Plusoptix vision screener. Results showed that only 10 percent of children tested solely with an eye chart received proper vision screening. The screening rate increased to 80 percent for the group of children where pediatricians used a vision screener.2
About Palo Alto Medical Foundation
The Palo Alto Medical Foundation for Health Care, Research and Education (PAMF) is a not-for-profit health care organization dedicated to enhancing the health of people in our communities. This includes almost one million patients and countless community members across Alameda, Contra Costa, San Mateo, Santa Clara and Santa Cruz counties.
PAMF is part of Sutter Health, a network of not-for-profit hospitals and physician organizations that share resources and expertise to advance health care quality. Serving more than 100 communities in Northern California, Sutter Health is a regional leader in cardiac care as well as care of women and children, and is a pioneer in advanced patient safety technology.
About Plusoptix
Plusoptix is the world-leader of instrument-based vision screeners, whose award-winning devices have been recognized for outstanding child-friendly product design. The purpose of the Plusoptix Vision Screening device is to empower primary health care providers to detect most prevalent vision disorders, in children as early as possible. The earlier a vision disorder is detected the better it can be treated, and amblyopia can be prevented. Since 2007, the company has served North American customers from its sales and service center in Atlanta, Georgia. The company is also represented in more than 60 countries by independent Sales Partners. More information is available at www.plusoptix.com
1. American Academy of Pediatrics. Policy Statement. Visual system assessment in infants, children, and young adults by pediatricians. Pediatrics. 2016; 137(1). http://pediatrics.aappublications.org/content/137/1/e20153596.
2. Lowry EA, Wang W, Nyong'o O. Objective vision screening in 3-year-old children at a multispecialty practice. J AAPOS. 2015;19(1):16-20.
Media Contacts:
Meg Walker
walkermx@sutterhealth.org
415-846-1159